Peter Lynn Vibe 2 Line Power Kite
is perfect for a day out with the whole family. It is suitable for all ages and abilitys and is really easy to setup and fly. Great as a kite to start to lean to powerkite with. It has an easy flying behavior but still challenging to fly. The Peter Lynn Vibe is made from Mira Ripstop Nylon with double stitching and reinforced stitched bridles which makes is extremly durable and built to the same standards as higher end kites like the hornet and twister. This is a quality construction and designed kite that will progress for all the family.
The Peter Lynn Vibe ranges in size from the 1.3m up to the 2.6m and has a lot of power in a strong wind. The bigger the kite the more power generated but the tougher to hold on to for younger/smaller riders as the wind increases. The smaller kites like the 1.3m need a bit more wind to get them airbourne than the larger kites so the 1.6m and the 1.9m are the most popular sizes due to a balance of easy flying in light winds and also not too powerful in strong winds. The large 2.6m size comes with padded wrist straps and slightly longer lines to suit it better.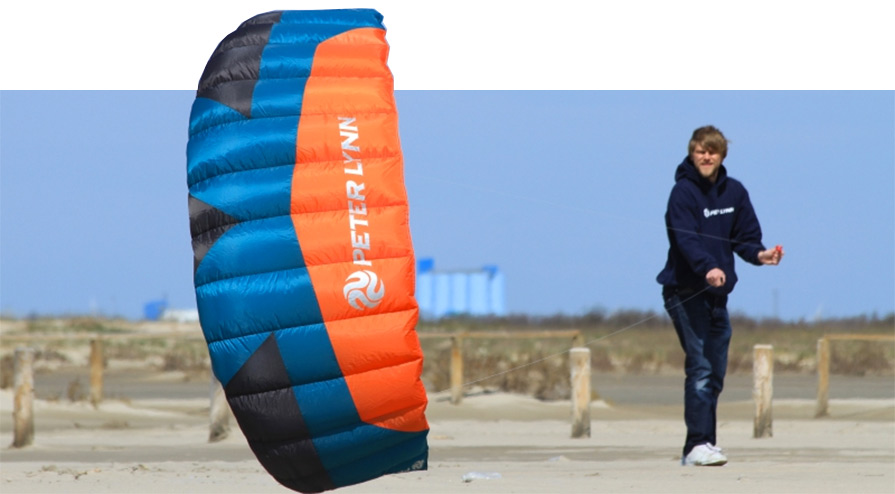 Peter Lynn Vibe 1.3m - £42.00 - dark grey / teal / orange
Peter Lynn Vibe 1.6m - £51.00 - dark grey / lime/ grey or dark grey / berry / white
Peter Lynn Vibe 1.9m - £67.00 - dark grey / red / grey
Peter Lynn Vibe 2.3m - £84.00 - dark grey / teal / orange
Peter Lynn Vibe 2.6m - £99.00 - dark grey / lime / grey
Peter Lynn Vibe Kite Package:
The Vibe is delivered as a complete package, containing:
Vibe Kite
Vibe bag
2-line wrist straps
Pre-attached, colour coded, durable Dyneema®Flying lines
2-line bridled foil manual
Line length & strength:
Vibe 1.3 18m 30Kg
Vibe 1.6 18m 50Kg
Vibe 1.9 20m 75Kg
Vibe 2.3 20m 100Kg
Vibe 2.6 20m 150Kg