Power Kites
Brand new!
Ozone Frenzy 2012 Open Cell Depower Freestyle Kite
The Frenzy incorporates new technologies from Ozone's world leading paraglider designs, as well as an added safety option with the new Contact Snow Control System, allowing for easy 100% flag-out safety whilst retaining the brake handle landing option.
ATBShop Team Rider Thoughts
"The new 2012 Ozone Frenzy is another step forward in terms of performance. One of the biggest changes to the kite this year comes with the new contact control bar. The new safety works on a total kill one line flag out system and says goodbye to the Ozone tophat style of release. Ozone have decided to do this for those snowkiting in the mountains who demand complete safety when you cannot afford to have power left in the kite. You can still use the rear line brake to self land the kite if required."
The partially closed leading edge with mesh openings gives ultimate performance, clean air intake and extra strength. A refi ned diagonal rib confi guration helps optimize bridal line layout; this has enabled us to achieve a 28% reduction in line drag and a more direct feel. An increased number of cells and reduced cell width allow more control of the upper and lower surfaces. More cells also help reduce the amount of billowing (ballooning) of the cells, resulting in cleaner surfaces and better overall performance.
The Frenzy incorporates the "Link" line, which connects both sides of the Speed System together to maintain the correct distance between both sides of the kite. This Link line therefore controls the tension transmitted through the kite which aids stability.
These improvements add to the performance of the kite in all aspects; faster smoother direct handling, more power produced throughout the speed range, better stability and more de-power than ever before. The Frenzy is constructed from top quality materials and features a double pulley speed-system, utilising the latest high spec Ronstan Orbit Block Series 20 pulleys. Three unique blow-out-valves on the under surface allow the internal volume of air to be released when the kite is crashed into the ground.
Ozone Frenzy 2012 7m £1039 Complete

Ozone Frenzy 2012 9m £1085

Complete Now Just £925




Ozone Frenzy 2012 11m £1144

Complete

Now Just £975
Ozone Frenzy 2012 13m £1180
Complete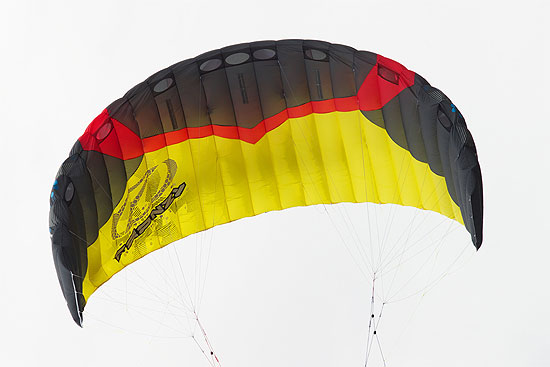 Ozone Frenzy 2012 Features:
100% Flag Out Safety System
• Double Pulley Speed System with new Ronstan Orbit Pulleys
• Direct and responsive handling
• Easy and controllable power
• Mega de-power range
• Improved stability
• Improved landing characteristics
• Simple re-launch
• Partially closed cell leading edge for ultimate performance
• Mesh openings for clean air intake and extra strength
• Dirt-Outs in tips
• Diagonal Ribs
• Blow out valves
• Mylar edged tips
• 54cm Contact Snow Control System with the Original Ozone Y-Line design & new Flag-Out Safety
• Exceptional hand checked Ozone factory construction using the highest quality materials; Highest grade OzTex 40D and Edelrid sheathed bridal lines
• Ozone warranty and back-up service guaranteed
Package Contents
• Bar with 25m Lines
• Kite Leash
• Large Technical Backpack
• Repair Pack
• Comprehensive manual
• Stickers, Keyring


Contact-Snow Control System
The Contact-Snow Control System has been simplified and re-designed offering the latest in safety features, a clean control bar design and an easy-to-use trimming system. The system exceeds all Kitesurf/Snowkiting loading and release EU NORM safety standards.
Megatron Quick Release (primary release) – The Contact-Snow system features Ozone's proven Megatron quick release safety with total flag out of the kite. Easy re-assembly saves time and gets you back up and riding faster. Note: a leash must be connected to the control system.
Two Safety Modes – The new Contact-Snow Control System offers riders a choice of safety modes; the recommended Flag Out safety, or the optional Brake Handle safety.
- The recommended Flag Out safety offers 100% flag out in all situations by releasing the Megatron or letting go of the bar when un-hooked.
- The Brake Handle safety method attaches the safety leash to the hand brake line that connects to the back leaders, when Megatron is released or the bar is let go the kite stalls down to the ground.
Low Friction Centre Piece – The control bar features a low friction aluminum centre piece designed to reduce trim line wear.
Auto Positioning Chicken Loop – Designed in conjunction with the bar centre piece, the Megatron spinning handle allows chicken loop auto positioning, offering easy unhooked riding and hooking back in.
Simplified Trim System & Longer Foam Floats – The new trim system has been simplified by removing the Re-ride and Cross lines. New longer foam floats provide better protection from the lines.
PU Covered trim line & Ronstan Orbit Pulley – The tough PU covered trim significantly reduces wear when sheeting in and out, whilst the smooth running Ronstan Orbit Pulley also prevents trim line wear.
Magnetic trim handle system – Magnetic trim handle connects to magnetic neoprene sock covering the clam cleat to reduce tangles when trimmer is de-powered.
The Contact-Snow Control System bar size is 54cm. The larger size PU chicken loop (accessory sold separately) is perfect for riders with longer arms or for riders wanting even easier hooking in & out.
Contact-Snow Control System Features >>
Megatron quick release with 100% Flag out
New clam cleat trimmer with Ronstan Orbit Pulley
New magnetic trim handle
New longer foam floats with internal back line trimming
54cm Control bar with low friction centre piece
Lightly sanded EVA grip and ergonomic finger grip bumps give you the ultimate bar grip
Auto positioning chickenloop and bar enables hooking back in without taking your hands off the bar
Easily un-twist your middle lines using the spinning handle
Wide mouth chicken loop for effortless unhooking and hooking back in
Colour coded leaders & 500/300kg flying lines
Hideaway elastic line retainers
The system exceeds all Kitesurf/Snowkiting loading and release EU NORM safety standards

We try to send out all of our orders the same day that we receive them, up to 1pm. Depending on how busy we are, and levels of stock this is sometimes delayed. In this situation we will contact you via phone or email if the dispatch time is going to be extended by more than 3-4 days.
All small/light weight item orders or normally orders under £50 will be dispatched with Royal Mail on a First Class service.
All Larger items are dispatched with Fed-X or Parcel Force Courier on a 24 hour, trackable service. Please note delivery times to the Highlands and Islands, and deliveries outside of the UK may take longer to arrive at their destination.
Delivery Pricing For Orders to UK:
Order under £30
Royal Mail 1st Class (1-3 Working Days) £2.00
FedEx Next Working Day £4.50

Order over £30
Standard Delivery £3.50 (only for Mainland UK)
FedEx Next Working Day £4.50

Order over £100
Free Standard Delivery (only for Mainland UK)
Free Next Day (If stock options allow)
Saturday Delivery is available at a extra charge and can be selected from Thursday afternoon till Friday morning.
UK Delivery Surcharges
Deliveries to the certain Highlands and Islands postcodes incur a surcharge due to carrier charges to us. This will show in the checkout as a surcharge after you enter your address details.

You can track your Fed-X UK parcels here: http://www.fedex.com/ukservices/
International parcels maybe tracked here:http://www.fedex.com/Tracking?cntry_code=gb
European Shipping Charges:
Please see our shipping page for more detail or select your country in the checkout to get a shipping quote.
Other countries are sometimes possible please contact us with address and order details to arrange a personal quote.

Faulty goods may be returned at anytime during the manufacturers guarantee and ATBSports will arrange for the goods to be rectified or replaced. Unwanted or incorrectly ordered goods can be returned at the customers expense and provided they have not been used or damaged, ATBShop Ltd will issue a full refund less the cost of postage we incur.
If you have a return you want to send back to us please send it back with our RMA Returns Form -
Download RMA Form Here
(PDF Document)

If you are returning Skateboard or Scooter equipment please send it to:
ATBShop Skate Warehouse. Unit 1 Newcombe Drive, Hawksworth Ind Est, Swindon, SN2 1DZ

If you are returning equipment to do with Kite, Snow, Wake or other board sports please send your goods back to
ATBShop, 9 Faringdon Road, Swindon SN1 5AR
No reviews at present
If you have any questions on the product or ordering please call us on
01793 523255
for Kite and Board Sports questions
01793 523244
for Scooter and Skateboard questions.
Or use the form below to send us an email.
Ozone
Ozone is a rider and pilot driven company solely dedicated to creating the best kiting and paragliding equipment on and above the planet. Ozone offer the customer the ultimate in product, service, and support.
Always well known for their build quality and attention to detail as they have their own factory, you can rely on their design and build in all their products. The current Ozone Kitesurfing range includes the Reo, Catalyst, C4, Edge and Zephyr.
more details >>
Shopping Cart
Cart empty
Search
What's New
Special Offers
Keep in touch