The ATBShop crew headed out with two vans worth of kit to Lea-on-Solent near Portsmouth. Armed with paddle boards, kite boards and some of the best kit on the market; we took over the beach with some of the locals and kiters who had travelled down for the day.
The two well stocked vans were loaded with several paddle boards from brands such as Red Paddle, RRD, Brunotti, Aqua Glide and BluWave. Kites from some of the biggest kite manufacturers such as Flysurfer, Ozone, Slingshot, Peter Lynn, CrazyFly and Liquid Force and a ton of kite boards in different sizes. There was literally something for everyone to get stuck in with, even if you couldn't kitesurf!
If you'd seen the weather forecast that morning, you'd have sacked the event off after seeing nothing but expected grey skies, rain and close to nothing for wind. But the brave and determined showed up were rewarded for their efforts with sunshine and consistent 10- 12m wind all day long!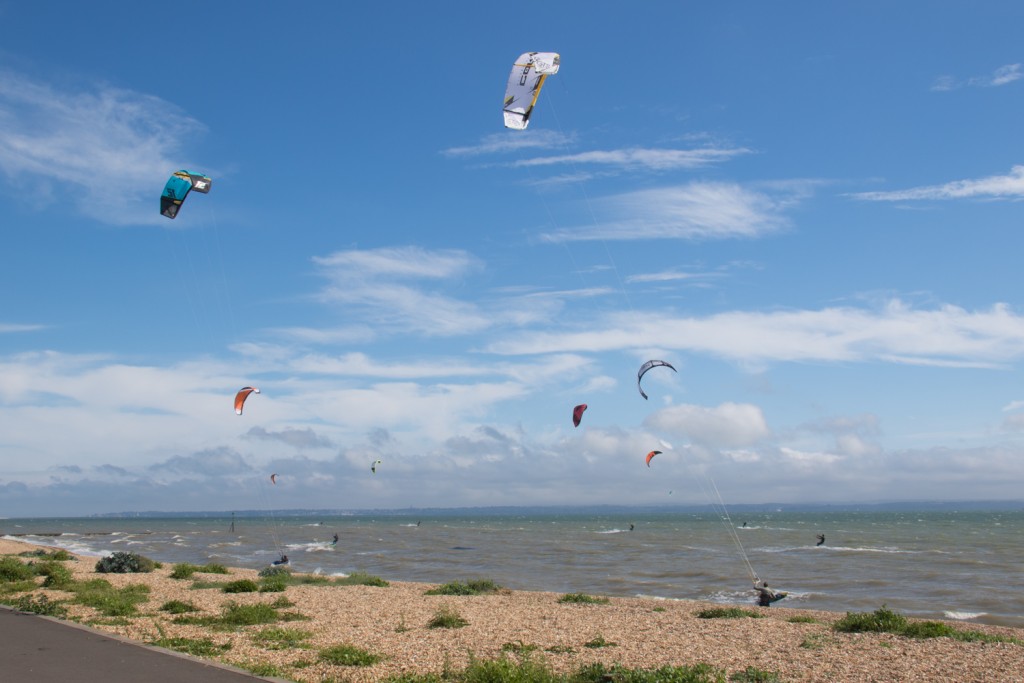 The weather turned at about 2pm when the sun decided to show its face making it the perfect day to stick a shorty on and host a kite demo on the beach.
Harry Calvert – ATBShop team rider taught some beginners on the Flysurfer Viron which is Flysurfer's depowerable, water relaunchable trainer kite. Where as we also had some other new faces getting stuck in also; Anastasia join us and took Liquid Force Solo and the Wow for a spin. We came prepared for the newbies also and handed her the Crazyfly Cruiser 145 and she was up in riding in no time. She loved every second and could be seen smiling from half way up the beach.
Her friend Craig also came along and although new to kite landboarding himself, he messed about static flying on the playing field and tried a paddle board or two. He quickly picked up the paddle boarding and made it onto his feet. This is quite an achievement for anyone on their first beach outing – especially when the water was as choppy as it was.
We had locals from Swindon, such as Jeff and Elliot and guys Oxford like Lucy and Jim and Lea-on-Solent residents join in.
These more experienced riders made good use of all the kit. Only a couple of kites didn't get used today. Jeff commented on the new Ozone Catalyst V1 – Saying how different it was to the old Catalyst's. Stuart owner of ATBShop said this is the reason we hold these demo days. It's a chance for you to try these kites out and see what they are like against your current kit. For some it will be a chance to up grade and for others a chance to try something new. It's easy to sell something in a shop on a recommendation but nothing beats trying something for real. It seems throughout the whole day it was the new Ozone Enduro 12m that had the most interest and spent the most time on the water! So keep an eye out at Westward Ho! for these bad boys in a few weeks time!
As you can see from the photos taken jointly by team rider Diana Kirk and Lucy Roberts, everyone had fun.
This slideshow requires JavaScript.
The day was a massive success and everyone's hyped for the next event. If you missed this demo or the photos just made you envious, then head on down to our next free demo weekend at Westward Ho! On the 10th and 11th of July!
For more information on kites, boards, prices, lessons and demos email us info@atbshop.co.uk or check us out online at atbshop.co.uk!