Never Summer -
Never Summers reputation of quality and durability began in the early years of snowboarding. Designing and building snowboards since 1983 has given us years of experience in testing and perfecting our snowboard designs and construction methods.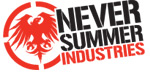 sale
The Titan is the snowboard all other camber boards are measured to! Stiff and Super Fast this is the perfect board to bomb at top speed or hit the off piste powder runs.
£295.00
sale

Take the park to the mountain with the Never Summer Evo snowboard. If you want a playful board with lots of flex then look no further for your ride this year.
£324.95
new

Never Summer 2013 / 2014 Snowboard On the piste, off the piste, through a powder bowl and dodging trees coming at you like bullets the SL is one slick sick stick! Although the...
£494.95