Ozone Frenzy Power Kite 2012
a high performance depower kite for use on grass, sand and snow
KiteOzoneFrenzy12_09m_C
The Ozone Frenzy is the best all round performance you can get. An open cell foil depower, ideal for of riders wanting to have great fun with good stability & safety.
Out of stock. Sorry, This item is now Discontinued.
Related Products
Ozone Frenzy 2012 Open Cell Depower Freestyle Kite
The Frenzy incorporates new technologies from Ozone's world leading paraglider designs, as well as an added safety option with the new Contact Snow Control System, allowing for easy 100% flag-out safety whilst retaining the brake handle landing option.
ATBShop Team Rider Thoughts
"The new 2012 Ozone Frenzy is another step forward in terms of performance. One of the biggest changes to the kite this year comes with the new contact control bar. The new safety works on a total kill one line flag out system and says goodbye to the Ozone tophat style of release. Ozone have decided to do this for those snowkiting in the mountains who demand complete safety when you cannot afford to have power left in the kite. You can still use the rear line brake to self land the kite if required."
The partially closed leading edge with mesh openings gives ultimate performance, clean air intake and extra strength. A refi ned diagonal rib confi guration helps optimize bridal line layout; this has enabled us to achieve a 28% reduction in line drag and a more direct feel. An increased number of cells and reduced cell width allow more control of the upper and lower surfaces. More cells also help reduce the amount of billowing (ballooning) of the cells, resulting in cleaner surfaces and better overall performance.
The Frenzy incorporates the "Link" line, which connects both sides of the Speed System together to maintain the correct distance between both sides of the kite. This Link line therefore controls the tension transmitted through the kite which aids stability.
These improvements add to the performance of the kite in all aspects; faster smoother direct handling, more power produced throughout the speed range, better stability and more de-power than ever before. The Frenzy is constructed from top quality materials and features a double pulley speed-system, utilising the latest high spec Ronstan Orbit Block Series 20 pulleys. Three unique blow-out-valves on the under surface allow the internal volume of air to be released when the kite is crashed into the ground.
Ozone Frenzy 2012 9m RRP £1085
Ozone Frenzy 2012 11m RRP £1144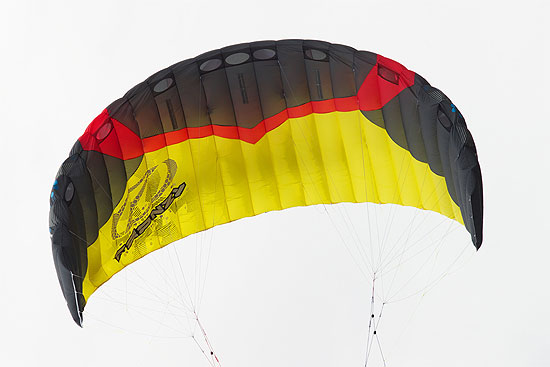 Ozone Frenzy 2012 Features:
100% Flag Out Safety System
• Double Pulley Speed System with new Ronstan Orbit Pulleys
• Direct and responsive handling
• Easy and controllable power
• Mega de-power range
• Improved stability
• Improved landing characteristics
• Simple re-launch
• Partially closed cell leading edge for ultimate performance
• Mesh openings for clean air intake and extra strength
• Dirt-Outs in tips
• Diagonal Ribs
• Blow out valves
• Mylar edged tips
• 54cm Contact Snow Control System with the Original Ozone Y-Line design & new Flag-Out Safety
• Exceptional hand checked Ozone factory construction using the highest quality materials; Highest grade OzTex 40D and Edelrid sheathed bridal lines
• Ozone warranty and back-up service guaranteed
Package Contents
• Bar with 25m Lines
• Kite Leash
• Large Technical Backpack
• Repair Pack
• Comprehensive manual
• Stickers, Keyring