Ozone
Octane Power Kite
"A stunning 4 line power kite to learn and progress with"
Please select an option
In Stock & available for UK next day delivery
Ozone Octane Power Kite
The Octane is Ozone's successor to the extremely popular Ozone Flow. Taking the flow and tweaking it to give some more performance and also still keeping the stability and the progression it has been famous for! The Ozone Octane is a great beginner and intermediate kite for all ages. The Octane is perfect to start and progress with Traction Kite flying.
The Ozone Octane's smooth flying and constant pull speeds your kiting progression with no compromise. This makes it easier to learn and progress your traction kiting rather than struggling to keep the kite in the air as you are concentrating on moving.
The Octane will keep your excitement and adrenaline pumping with its precise and always predictable handling. The more you work the kite the more performance comes back to you, the kite's performance increases as you increase your skill.
Available in four sizes; 2, 3, 4 and 5 meters squared, the Ozone OCTANE covers a massive wind range enabling action in almost any conditions. All sizes are capable of meeting the demands and capturing the imagination of any kiter depending on the wind speed and conditions for the size you need.
The Ozone OCTANE can be purchased as kite only (which is just the canopy bag etc) or complete ready to fly, with either handles and kite killers or control bar. The package also includes an Ozone Ground Stake, perfectly suited for securing your kite safely and easily.

Ozone Octane 2m2 (Grey Green Yellow)
The 2m Octane is packed with high wind traction fun! Massive top end wind range for high-speed buggy runs and just the right amount of challenge for anyone with guts! A fast kite with a real good punch for high wind traction! (Great high wind experienced flyers kite but the 2m is not ideal for beginners due to the speed and power, perhaps look at a small Quattro instead?)
Ozone Octane 2m Kite Only £108.00
Ozone Octane 2m With Lines and Handles £166.00
Ozone Octane 2m With Lines and Fixed Bridle Bar £199.00
Ozone Octane 3m2 (Grey Red Blue)
The 3m Octane is the perfect entry point in the range for most adults, The 3m Octane generates power early on in light winds while always being easy to control. Quite possibly the perfect introduction to land boarding for most adults. The 3m is a perfect balance of speed and power both static flying and on board or buggy.
Ozone Octane 3m Kite Only £133.00
Ozone Octane 3m With Lines and Handles £185.00
Ozone Octane 3m With Lines and Fixed Bridle Bar £219.00
Ozone Octane 4m2 (Grey Yellow Blue)
The 4m Octane has the bottom end power needed in the lighter winds likely to be encountered by novice snow kiters and is a great mid-range buggy engine or land board motor. The 4m Octane is great for heavier flyers wanting more grunt especially if inland lower wind flying rather than on the beach.
Ozone Octane 4m Kite Only £155.00
Ozone Octane 4m With Lines and Handles £209.00
Ozone Octane 4m With Lines and Fixed Bridle Bar £240.00
Ozone Octane 5m2 (Grey Red Yellow)
The Octane 5m is the one to beat in is this lighter wind category, with light wind performance for effortless early starting traction and an upper limit the pros will just keep pushing. A great grunt machine for lighter winds getting moving on a board or a buggy. Twinned with a smaller kite like the 3m makes a great ozone octane kite quiver!
Ozone Octane 5m Kite Only £176.00
Ozone Octane 5m With Lines and Handles £231.00
Ozone Octane 5m With Lines and Fixed Bridle Bar £266.00

The Ozone Octane is available to buy in three package options: kite only, on an Ozone 4 line bar or with Ozone handles with strop and kite killers giving the flexibility of choice. The Ozone Octane is the ultimate Ozone all round traction kite for recreational flying, buggy, kite land boarding or Snowkiting. A fixed bridle kite that is really fun to fly, super stable yet has tons of performance thanks to its advanced. The Ozone Octane features a similar colour scheme as all other Ozone Kites which looks fantastic in the sky and on the ground!

For most beginner powerkiters we recommend the Octane with handles. Not only does this keep help keep the cost down when your starting out but the kites are generally more fun to fly on handles rather than a bar, with a higher level of control. You can make faster turns, turn the kite on the brakes and pack the kite down smaller with the handle option. The bar is a great forward progression if you are thinking about landboarding or using a harness. Likewise if you are thinking about larger depower kites for land or kitesurfing it is a good step to make.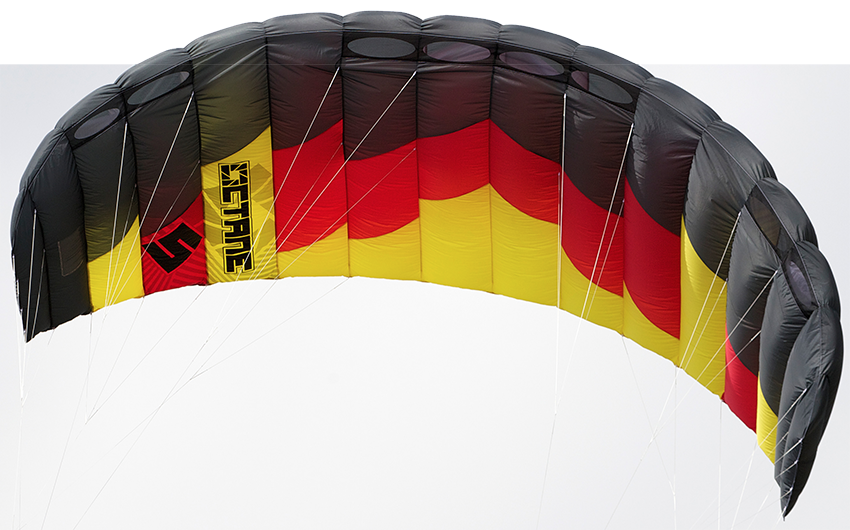 Handles:
Neoprene covered handles offer ultimate comfort, control and grip. The handles include power line finger guards and ground stake loops on the rear leaders. Safety "Kite Killer" wrist leashes are also included for peace of mind when letting go.
Control Bar:
The 55cm Control Bar features a 3D grip with easy to identify colours for left and right sides. The rear brake line pulley allows for smooth kite control, combined with the safety wrist leash and release handle connected to rear lines offering an easy and effective stall system. Fly unhooked to feel the full power or hook into a harness with the Ozone Megatron Quick-Release chicken loop.
Ground Stake:
The OCTANE package includes an Ozone Ground Stake, perfectly suited for securing your kite safely and easily.
Bright red ABS plastic to be durable and clearly visible
8mm diameter 316 Stainless Steel stake
Molded ribs help the stake stay fixed in soft soil, sand or snow
Molded tabs to attach lines and run them out easily
Ergonomic top handle for easy push in and removal from the ground
Sturdy pouch to keep the sharp end away from kite material
Design Features:
Closed cell leading edge with mesh for clean air intake and extra strength
Internal diagonal rib structure reduces bridles
Auto-stable wing curvature equals rock solid all-conditions performance
Optimized profile for power, speed and stability
Wing tip Dirt-outs & internal sand-channels
OzTex 40D Ripstop nylon fabric
Pre-stretched Dyneema control lines
Comes Kite Only or with Bar or Handles
A perfect match for the new Turbo Bar (Sold Separately)
If you have any questions on the product or ordering please call us on
01793 523255
for Kite and Board Sports questions
01793 523244
for Scooter and Skateboard questions.
Or use the form below to send us an email.