In Stock & available for UK next day delivery
The Union Milan 2019 Womans Snowboard Binding is Jamie Andersons Weapon of choice. Jamie has taken home 2 gold medals, one from Sochi 2014 and repeating her win in 2018 in South Korea. 11 total medals makes Jamie one of the most influential female snowboarders ever. Loaded throughout with top end materials boasting lightweight and super durable features guaranteeing comfort and style for riding all season long. Ideal for all mountain - free ride riders these bindings are a serious bit of kit.
The base on the milan is Duraflex injected and is possibly the softest of all of the MD bases. It's ideal for the lighter riders or those out there searching for a loose, surfy feeling binding.
The high back on the Milan Bindings are anatomically correct style for women based on the Contact Pro high back. The 2019 model has received an incredible upgrade for this season. The CP3 high backs are stripped of weight, extremely comfortable and unbelievable in every type of snowboard terrain.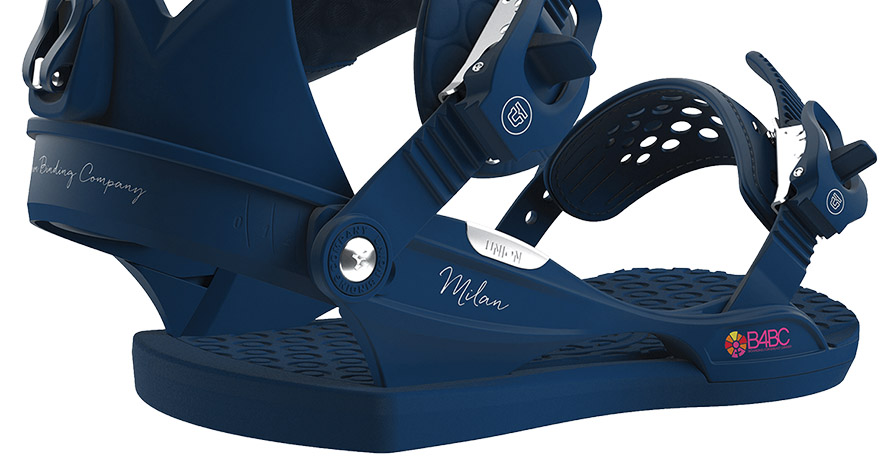 Multi Density Thermoformed EVA Bushing brings unreal comfort and cushioning to the heel edge, with a stiffer toe. This in turn is keeping up with the style on modern, a-symetrical boards, bringing your snowboarding up to the modern style. The thermoformed EVA bushings hold their shape, feel and colour a lot better than traditional urethane or rubber bushings which can be brittle and discolour over time.
The ankle straps, as featured on last years top of the range models, are the Classic Lite Ankle Straps. Its a prime example of how the technology works its way down the range improving previous years models with tried and tested technology.
Extruded Aluminium Heelcups bring stiffness and rigidity to the chassis. This connects to the base of the binding bringing seamless response and transition.
Featuring aluminium ratchets, these are a super lightweight. They are quick and easy to strap in and out and hold the perfect balance between reliability and functionality.
Specifications of the Union Milan 2019 Womans Snowboard Binding in Blue
Duraflex Base
Female Specific High Back
Multi Density Thermo Formed EVA Bushing
Classic Lite Ankle Straps
Extruded 3D Aluminium Heelcups
Aluminium Ratchets
Base Stiffness - 4/10
Back stiffness - 5/10
Disk Type - mini disk 4X2 and Channel
Lifetime warranty on baseplates