In Stock & available for UK next day delivery
The Bern Heist Brim helmet is a new helmet to the range and a huge upgrade to the regular Bern helmets but still keeps all the features and street style we love with Bern. You don't want to compromise on style and comfort just because you want to protect your head now you can get the performance and style you need from Bern.The Heist is the first helmet with Dual Shell Integration (DSI) construction. This combines the lightweight properties of Zipmold+ and PVC lower shell with the durability of ABS top shell all with Bern classic Sink Fit tech and style.
The ABS top shell covers a liner that uses (EAR) Energy Absorbing Ribs which act like crumple zones giving greater impact dispersion for extra safety in large impacts. Lastly Bern have added Aluminum Shields to the temple and rear of the heist helmet for even more durability and high end finish. As for comfort then as you would expect from Bern there is a full luxe liner sewn into the helmet and a BOA to create 360 degree fit and stop any wobbles to the helmet. The Heist Brim also works perfectly with most goggles and gives a seamless performance fit with the brim covering the top of the goggles and providing venting.
The Bern Heist Brim delivers low profile style and optimum ventilation, comfort and super lightweight performance you need to stay out all day long and protect your head.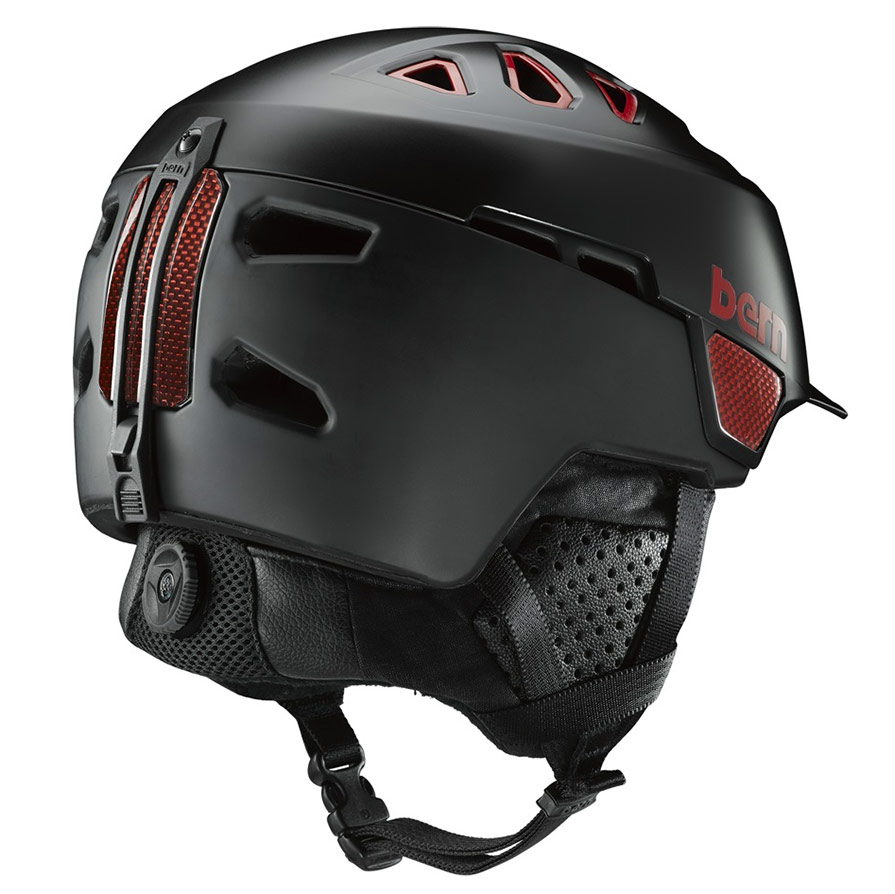 - Please note helmet shown above is black and red design rather than the Grey. The picture at the top is the actual helmet colours this is just to show the rear details.
Bern Heist Brim Helmet Features and Specifications:
Dual Shell Integration (DSI) technology for maximum protection (Mixture of Zipmould+ and PVC with ABS top shell.
Removable premium plush liner with BOA dial adjustment.
16 liner ventilation channels to keep you cool and fresh.
Ear pads built into the liner with audio chip compatible pockets.
Premium plush BOA adjustable knit liner for ultimate fit and comfort
Certified for snow, skate and bike use all year long
Goggle Airflow Channels to help prevent your goggles from fogging
Certification -CE 1077B and CPSC safety standards for concrete, snow and bike use.
Weight - 530g