T-Shirts - Etnies
We all already own more T-shirts then we really need, but sometimes it just isn't enough. Tees also make a great gift idea for people not sure on what to buy. We sell T-shirts to match our lifestyles, so whether you are into Kitesurfing, Wakeboarding, Snowboarding, Skating or any other rad board sports we should have some hard wearing fashion to back you up.

Launched in 1986 Etnies with Pierre Andre Senizergues as head designer which built the foundations of what is now known to be one of the biggest skate shoe brands in history. In this success he introduced the brand to the US where Etnies really took off and lead the way sister shoe brands such as Emerica and snowboardings Thirty Two.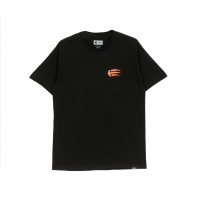 Chris Joslin iconic Etnies Logo in orange on a short sleeve 100% cotton T-shirt.