Ultra compact and portable
This package includes DJI Mavic Air, Controller, Battery, Carry Pouch, charger and prop guards. We also sell a 'Fly More Combo' that you can find HERE.
Introducing the latest of DJI's groundbreaking drone technology and development all in the shape of one tiny, easy to fly drone to make your footage and photography something of a whole new level. Built to be the best and most convenient drone to assist in unfolding and capturing those moments that life gives you, the DJI Mavic Air features an ultra portable size with high end features and functionality that means you will never miss one of those moments ever again!

21 Minute flight time and 68.4kph top speed
The Mavic Air is the perfect balance between the technology found in the Mavic Pro and the Spark creating a drone that can be used and transported by just about anyone in just about anything without any hassle! An outstanding 21 minute variable flight time using a high density lithium battery gives you more than enough time to get the shot you want while a top speed of 68.4kph in Sport Mode with the capability to link up VR goggles will enhance your flying experience and keep you on the edge of your seat!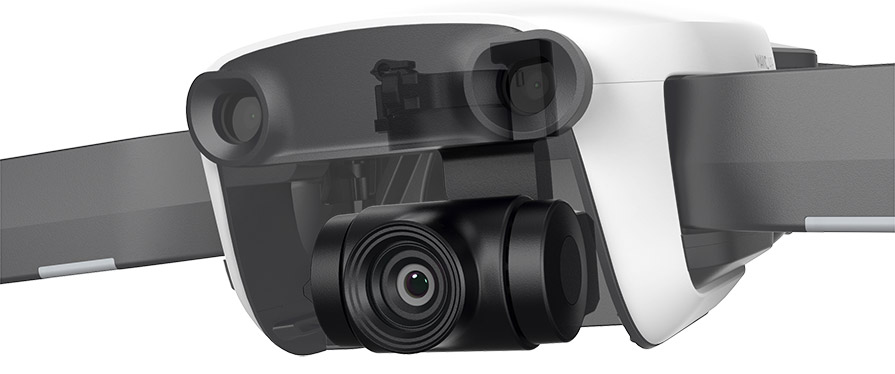 3-Axis Gimbal and 12MP Camera
The smallest Drone ever to house a 3-axis gimbal and integrated camera with a 1/2.3" 12 megapixel CMOS sensor, f/2.8 35mm equivalent focal length of 24mm, the Mavic Air pushes the boundaries of high quality photography and videography without bulking out the payload and reducing flight time. From this the Mavic Air can shoot in multiple photographic modes such as HDR and 32MP sphere panoramas where the drone can stitch together 25 photos to create a fully immersive 360* perspective at the push of a button.

UHD Video
The DJI Mavic Air can shoot ultra high definition 4K at 30fps recording at 100Mbps giving you industry level footage at your fingertips while also supporting 120fps at 1080p for those slow motion shots during your high speed adventures. Featuring a micro SD port the Air features an additional 8GB of internal storage so there is no need to panic after having realised you left your micro SD at home!

Pre-programmed flight paths and Activetrack
To make your user experience that much closer to that of a professional cinematographer/ drone flyer the DJI Mavic Air has six pre programmed flight paths; Rocket, Dronie, Circle, Helix, Asteroid and Boomerang to assist in capturing the moment in all of its glory! Making it even easier to film in and outside of these features the Air can sense up to 16 selectable subjects simultaneously using the Activetrack feature allowing you to choose and automatically follow a target even while they running, jumping or cycling!

Smart Capture
DJI's Smartcapture is a revolutionary new way to control your Mavic Air using facial recognition and hand gestures to tell it what to do. You can launch, take photos, videos and even move it around all at the wave of a hand! This little feature makes for the perfect selfie companion!

Flight Autonomy 2.0
Featuring a three directional environment sensing obstacle avoidance, the Mavic Air features six cameras to detect whether the drone is getting too close to an object or is on a collision course and automatically routes a new path around that object. Obstacles are also highlighted on the display of the controller to give you an idea of your surroundings while flying.

The Mavic Air comes with a foldable and dedicated remote controller that, just like the drone itself, utilizes a low profile and ergonomic design to be used alongside a smartphone. Featuring detachable control sticks that store inside the handset this controller boast functionality and convenience for any user. To finish it all off we have a new and enhanced WiFi video transmission that supports 2.4/ 5.8GHz dual frequency bandwidths capable of showing 720p live view feed of up to 4km range!
This package includes DJI Mavic Air, Controller, Battery, Carry Pouch, charger and prop guards. We also sell a 'Fly More Combo' that you can find HERE.
The DJI Mavic Air technical specifications:
DJI Mavic Air controller
Controller cable adaptors for Iphone, Samsung and USB C
1x DJI Mavic Air intelligent flight battery
Prop guards
Carry Pouch
Charger
Lightweight, small and super portable
21 Minute flight time
68.4kph top speed
3 Axis gimbal
Three direction obstacle avoidance
Six obstacle avoidance cameras
VR Goggle compatable
1/2.3" 12 Megapixel Cmos sensor
f/2.8 35mm lens
HDR and 32MP immersive sphere panorama photographic modes
UHD 4K at 30fps and 1080p at 120fps
Micro SD port with 8GBs of internal storage
Pre programmed flight paths
Activetrack automated tracking
Smart capture facial recognition and gesture control
Supports 2.4/ 5.8 GHz dual frequency bandwidths
720p Live feed of up to 4km range