In Stock & available for UK next day delivery
The perfect travel companion for on the go thrill seekers and selfie lovers is here to capture your moments from a whole new and unique perspective. The DJI Spark has taken the industry by storm for being the most advanced consumerist drone in its size and spec featuring all of DJI's signature technologies in one tiny, travel friendly drone. With many cool features to keep you impressed and your creativity flowing the Spark will cater for any aspiring videographer and photographer looking to take their photo and video to a whole new level.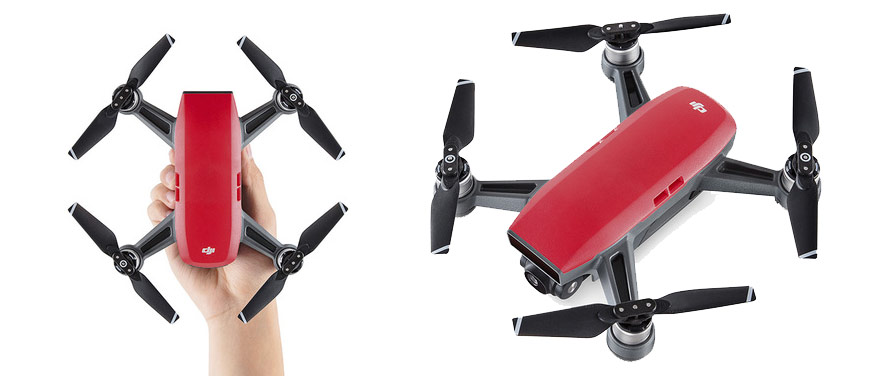 Way more advanced than a "my first drone", the Spark prides itself on being incredibly easy to fly even for complete beginners by using 24 powerful computing cores to power its 3D sensing system that can sense and avoid oncoming obstacles of up to 16ft (5m) away. With a visual positioning system (VPS) on the bottom of the Spark to prevent any drifting while up to an astounding 98ft in the air, the VPS also ensures the Spark lands safely and precisely when returning to home.
With an incredible 16 minutes flight time and capability of flying up to 1.2miles (2km) away the Spark will give you plenty of time to film and photograph exactly what you need and whatever other creativity begins to flow within that time. Innovative high definition Wi-Fi technology allows you to stream real time 720p video transmission directly on to your phone while you could make use of the Sparks 31mph top speed while wearing the DJI FPV Flight Arial immersion goggles for a real adrenaline, blood pumping and immersive experience.
Use Activetrack to get the Spark to follow either a subject or yourself hands free at the push of a button in two different modes:
Trace: Track your target from in front, behind or even circle around it.
Profile: Follow your subject from a fixed perspective.
Control the DJI Spark with Gesture control using only your hands! This truly incredible feature uses facial recognition to lock on to your face and follow instructions via hand gestures. The Spark can take off, be moved around using only your palm and take photos by either waving or making a frame with your fingers.

A 2-axis mechanical gimbal stabilisation means shake free, detailed shots and super smooth footage all around while the Sparks miniature yet powerful lens is there for you to capture the world as it unfolds in front of you. With two new shooting modes to add to your creativity, you can shoot vertical and horizontal panoramas and use a shallow focus to create moody photos.
The DJI Spark is the perfect drone for anyone looking to get in to their drone flying and arial videography/ photography without breaking the bank. It's easy to use nature with built in flight autonomy makes for a worry free flight while DJI's gesture control breaks the boundaries of modern day selfy taking!
The DJI Spark Drone Fly More Package Specifications:
Quick launch
16 Minute flight time
Simple control
Create with ease
Edit and share
Intelligent flight modes
Quick shot
Tapfly
Active track
Gesture
High performance camera
Mechanical gimbal stabilization
Powerful lens
1/2.3" Sensor
Versatile photography modes
Speed and precision
HD Wi-Fi Video and control
FPV Flight compatible
Flight Autonomy/ safety
Return to home
2x Intelligent Flight Battery
8x Spare props
prop guards
DJI Controller
Carry bag
Multi Battery charging bank
Charging cable