So you many have heard about the GoPro Drone? The Karma launched with it's american tag line of "more than just a drone!" and to be honest that is the best description of the Karma Package even if it's a bit cheesy! If you a have thought about filming with your GoPro from the air then the Karma is the next extension to your GoPro mount bundle. The Karma Light Package is the drone and the stabilising hand grip without the Hero5 Black Camera. Allowing you to create super smooth ground based filming and also aerial filming all in one complete package is something that any person with a GoPro can only dream about. For sports based filming the GoPro Karma Drone offers endless variations of angles and potential shots with ease while giving a whole other perspective to your videos. But just like any other GoPro mount you need to practice and use it to get the best from it.

Our thoughts and review on the GoPro Karma:
We have been using the Karma Drone and Grip since the UK launch and hopefully can answer most questions if you have them. There are many online reviews about karma compared to other drones etc and we will complete a much longer review of the karma in a separate blog review but we think the Karma shouldn't just be compared to pure drones. The Karma holds it's own position in the drone market as an easy to fly drone with handheld gimbal designed for the GoPro user who wants to step up their cinematic videography using more points of view and advanced settings with their GoPro Cameras. If you have never flown drones and want easy to learn, easy to fly and still want receive incredible results in your footage then the Karma is perfect for you. This is maybe not the drone for you if you are after pure ariel only footage and don't already have a GoPro, but might be!
We have found the complete Karma system is very good and these are some of the key good points and advantages we have found:
The controller is amazing for seeing what is going on and controlling the drone, camera settings, automated flight modes, reviewing footage and even has a flight simulator for flight practice. This is just perfect piece of kit for the job!
The drone is simple to fly and the controller walks you through setup and helps teach many of things new drone pilots will query. The standard setup is very much take out of box, calibrate and fly so only takes a few mins to be in the air.
The drone is very reasonably priced for what you get especially as the karma grip is included in the package.
The relative solid weight of it makes it stable in gusty wind and smooths out some quick movements.
The range of movement in the gimbal keeps the shot stable even with fast movements of the drone.
You also can't deny the quality of the footage from the GoPro Hero5 Black camera is just superb in many lighting conditions.
The automated flight paths are easy to use with the screen and can help create complex shots simply. But that being said manually flying is also super simple and smooth.
The fold up and pack away is great, we have snowboarded down a mountain with the karma on our backs, flown and filmed, packed drone back in the bag and then used the gimbal with grip to follow other riders down the rest of the ride even then switching to onboard shots too. I would need several pieces of equipment to do this with other manufacturers where here I can do this all with one package. That is pretty damn amazing and can't be understated.
But there are always some downsides or improvements in any new product. The downsides we have found using the Karma system:
No collision detection so you have to watch where you are flying and what you are doing. No bad thing as you should be doing this anyway not relying on automated sensors that can go wrong?
No automated following modes, this would have been amazing but is very very technically advanced and no drone company has this tech nailed yet for use in fat moving action sports. But the Karma is super easy and smooth to manually follow riders even in quite bright conditions so you can sometimes get a more cinematic shot flying the route manually with some planning.
Sometimes inaccurate gps in some areas (+/- 2m) with heavy interference. Always make sure home launch is a clear area.
There are loads of marketing and instructional videos from GoPro for the Karma and we don't want to go over all over them again, please view them at your leisure on GoPro's website. But we have put together a short video of some of the variety of shots we have got out of the Karma. We are not experienced drone pilots and have been learning more each time of use but found it quite easy to work with and get good shots. Check out more of our videos on our YouTube channel and Instagram where we are using the Karma Drone and Grip all the time.
What do you get in the Karma Light Package?
GoPro Karma Drone with Hero 5 Black Sized Gimbal.
GoPro Karma Drone Controller with in-built touch screen display.
GoPro Karma Grip- To fit the removable Karma Gimbal from the drone to be used as a handheld stabiliser.
GoPro Karma low profile Storage backpack.
GoPro Karma Drone battery & charger.
2 x Spare propellers, cables and manuals etc.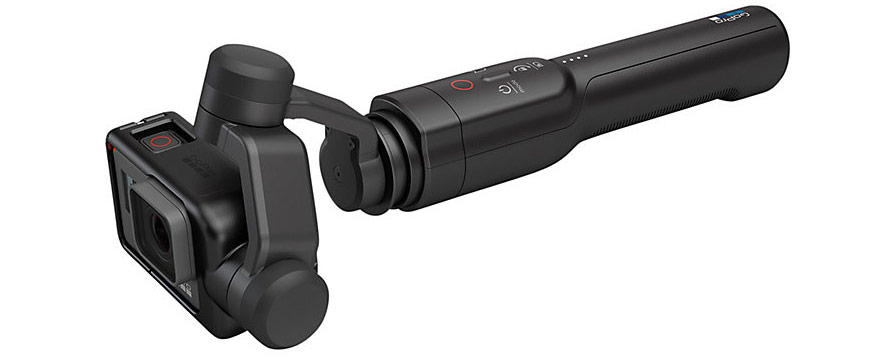 A quick bit about flying drones in the UK:
Flight Limits: In realistic terms; in the UK as a recreational drone flyer you need to comply with the uk drone code which means flying below 400ft, within line of sight and not over congested areas or buildings traffic. More info about this is found on dronesafe.uk website. We have found the Karma drone very capable inside these limits and got some amazing shots without much experience.
Interference: One important thing you must be aware of with all makes and models of Drone flying is magnetic and signal interference for connections. All around us there are waves we can't see from electrical cables, metal objects, mobile phones, wifi and many more things that can stop connection and also reduce the accuracy in the GPS and therefore move the drone over to failsafe manual control. This is harder to fly and there is no replacement for practice in this. I have seen people with drone from many different companies not just gopro complaining about their drone flying off or not doing what it should and this is normally down to interference and flying in the wrong locations. Drones from all makes are not an exact science yet, just like you still need a capable pilot on an airplane incase systems fail then it's the same when flying a drone.
Tech Specs of the GoPro Karma Drone:
Maximum Speed - 35mph
Maximum Distance up to 3,000m
Maximum Flight Altitude - 10,500ft (3,200m)
Maximum Wind Speed - 22mph
Operating Frequency - 2.4GHz
Dimensions Opened No Props - L 303mm, W 411mm, H 177mm
Dimensions Folded - L 365mm, W 224mm, H 90mm
Propeller Length - 10in (254mm)
Weight - 1006g
Controller Screen Size - 5in (12.7cm)
Controller Screen Resolution - 720p
Controller Battery Life - 4 Hours
Controller Weight - 625g
Battery Flight Time - Upto 20 minutes
Battery Rating - Li-Po 14.8V 5100mAh
Charging time for Karma Battery - 1 Hour
Charging Time for Karma Controller - 2.5 Hours
Charging Time for Karma Grip - 2 Hours