Please note this is a brand new kite and just in clearance rather than an ex demo kite. Grab a bargain! :)
Designed with unmatching performance in mind, Peter Lynn have created something that really brings the game to a whole new level. The Fury is your high aspect, maximum performance kite designed to send you flying high with plenty of time to throw down your biggest old school tricks. Alternatively the Fury delivers stunning characteristics for free ride and race making this kite the first choice for going hard, going fast and sending it high!
Despite the thought that this kite may scare the hell out of you, the Fury uses a five-strut frame with a short five-point, pulleyless bridle which boasts confidence in stability and controllability. This bridling system has been tuned for optimum performance in all winds whilst delivering consistent and clear power delivery from the kite through to the bar resulting in a session of confidence like no other.
For those of you who like to race, the Furys high aspect ratio and now even lighter design to its predecessor, presents stunning up wind ride ability and performance in lighter winds. With the 17m light winds are no longer accustomed to RAM- air or foil kites, but rather the LEI is making it's official comeback with the Peter Lynn Fury.
Navigator Control Bar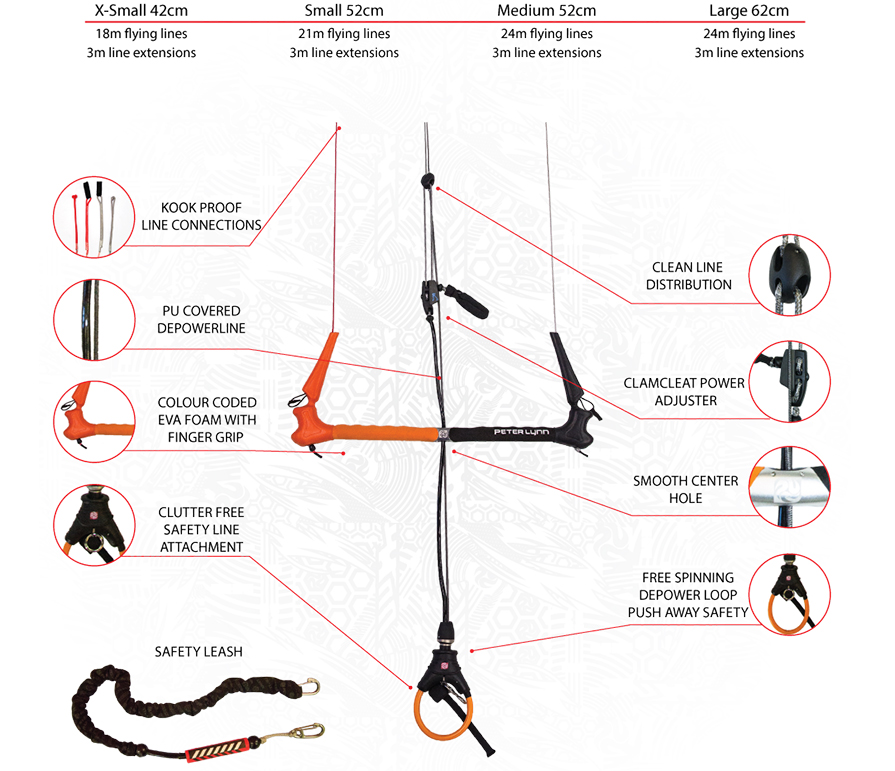 Now working in a kite shop we believe it is safe to say we have seen our fair share of good bars and bad bars. The Navigator distinguishes itself as one of the cleanest, most high quality well made bars we have seen yet. Strong and durable yet with no sacrifice to safety, the Navigator is designed for simplicity with everything you need, nothing you don't. Simple yet high quality and performance effective.