Out of stock. Sorry, This item is now Discontinued.
Related Products
We have wondered for years why GoPro didn't sell their own Pole or Selfie Stick as we used many others from companies like SP and had great results. Now GoPro have sorted it out and made what could only be described as the pole with the most the El Grande! It is a tough aluminium extension pole that goes up to 38in or 97cm long and gives plenty of reach to get to the action. It also collapses back down to 15in or 38cm for easy storage in a backpack. Then at the camera end of the pole there is a new ball and socket design and slide in clip to make it easy to point the camera where you want it and securely and also take the camera on and off quickly. The handle end has a tough rubber grip that allows you to grab in two hands easy.
From travel selfies to underwater shoving the camera in the face of a fish while snorkelling it's super versatile. Our favourite when snowboarding to get that follow cam or selfie shot in the deep powder to make your mates super jealous!
We have tried a lot of poles and although the GoPro El Grande is up there on the price, it feels super strong and tough in the hand and really the little changes with the ball joint end etc make all the difference in actual use. This pole has replaced all our others as preferred pole and now comes with us on many travels and adventures!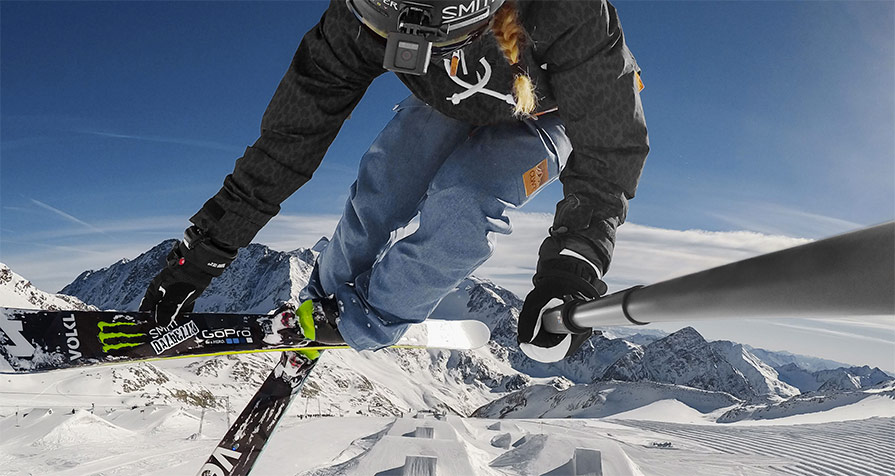 GoPro El Grande Pole Specs and Features:
Extended Length 97cm / 38in
Collapsed Length 38cm / 15in
Ball and Socket end connection
Slide in Quick release camera connection
Oversized rubber grip for easy two handed holding
Twist-lock design for easy extending to any length
Durable and Waterproof