Out of stock. Sorry, This item is now Discontinued.
The Anon Relapse in a Red Light Frame with a Red Solex Lens with a Amber spare Lens, boasts its MFI technology (Magnetic Face Integration). It makes wearing and putting a face mask very quick and easy and removes the worry of the facemarks suitability with your goggle. It works by using 4 magnetic points to attach the mask, the mask itself is also equipped with reinforced perforated O2 vents to keep you fog free while staying comfortable and fully covered at the same time. There are many other features that this goggle has to offer which is why it is one of of our most highly recommended products for the rider tackling the calmest to the worst condition while riding.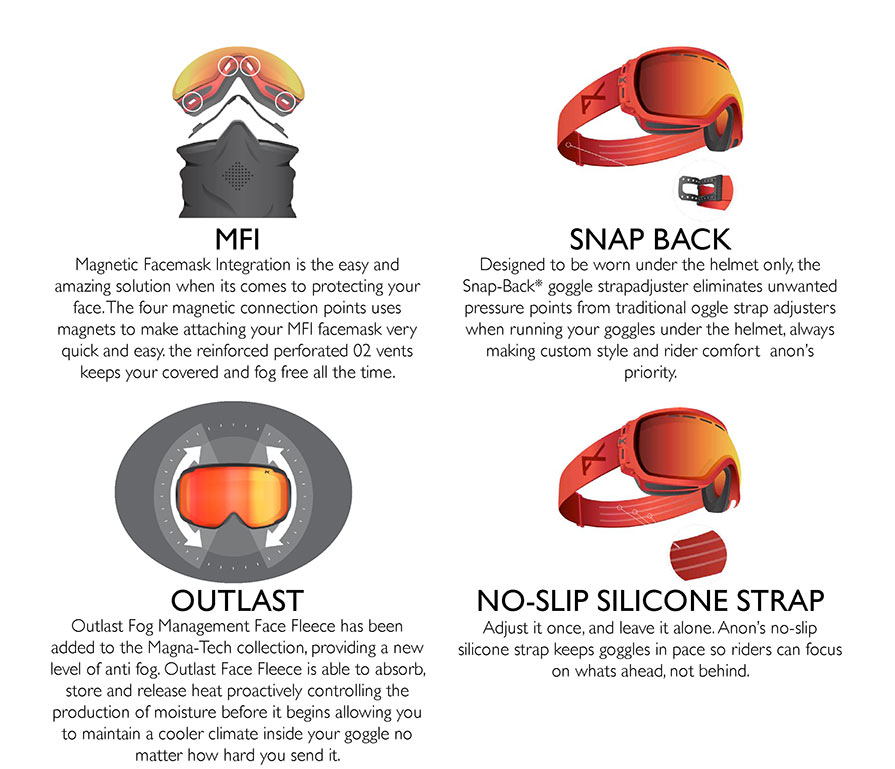 Additional Features:
OTG ( Over the Glasses) - This goggle can accommodate prescription glasses to be worn within it.
Cylindrical Lens - Tapered to a thinner profile on the edges for reduced peripheral distortion.
Triple Layer Face Foam - Taking advantage of moisture wicking fleece that provides perfect goggle to face fit, protecting you from the element while staying comfortable for many hours.
Full Perimeter Channel Venting - Ensuring maximum airflow within the goggle to pull the moisture away from the lens, providing clear and fog free vision no matter what the situation is.
ICT (Integral Clarity Technology) - Delivering clear vision no matter what the situation is, starting with a porous cellulose inner lens surface for superior water shedding capabilities. Anon applies chemically etched ICT anti fog treatment for long lasting clarity.