Balance Boards - Indo Board
A balance board helps build core muscle groups and are used to rehabilitate after an injury. Also it is good to build and stretch muscles to avoid the injury and improve technique. They build your whole core fitness and also improve your balance in all sports especially board sports.

A complete line of unique balance training devices for both fun and physical training.
out
of stock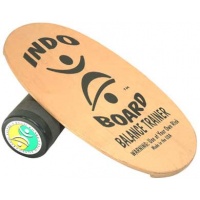 The original classic wood finish indo board. Perfect for perfecting your balance and improving your muscles.
No only good fun but also good exercise for all board sports, from surfing to snowboarding and everything else in between! Balance boards have also proved popular with regular sports trainers for sports like football, rugby, tennis and many more.