Beanies & Hats - Thirty Two
Keep your noggin warm and stylish with our cool range of beanies and hats. Most of our beanies and caps are from big snowboard or skate companies but can, and should be worn all year round!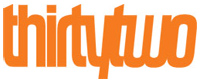 Since 1995 ThirtyTwo has been pushing snowboard footwear technology to the next level. Lightweight tough and super comfortable are what we always hear from our customers, there is a perfect ThirtyTwo boot for all types of terrain, from city handrails to powder days in the backcountry.