Out of stock. Sorry, This item is now Discontinued.
Related Products
The Bite Mount with floaty is a very versatile mount for watersports and other activities when you want your hands free like kitesurfing. It seems to have taken GoPro forever to come out with a mouth mount as it's a perspective that the GoPro CEO liked from the start. But although it has taken a while this mount was worth the wait! It isn't just a mouth mount it includes a slide buckle so you can clip it on to any gopro flat mount like the surfboard ones or the poles etc. This makes it super easy to get multiple view points without having to go back and change mounts. The bundled floaty is essential for using the camera on the water and makes it a super priced package.
The GoPro Bite Mount is super versatile allowing POV, hand held and on board filming without having to take the camera back to the beach. Plus the bundled floaty makes is very affordable package for a water sports user.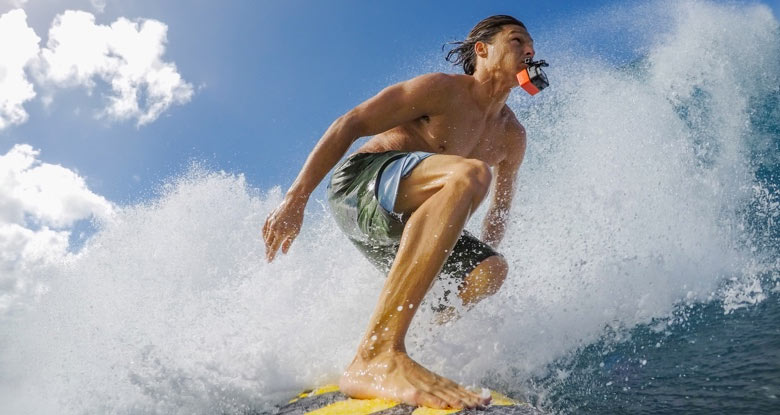 The ergonomic design of the mouth mount itself lends it to many more uses than water, but beware of face planting with it in your mouth! The simple design has less flex than other mouth mounts we have tried so gets a better video. There is also a breathing hole built in which is easy to cover with your lips so you don't get a mouth full of water when that wave crashes overhead. There is also a small rubber lip that hooks over your lower teeth that allows you to talk and hold the camera and stops it from falling out easily. All in all GoPro have done an amazing job on this and for us it's the must have mount in our kit bag.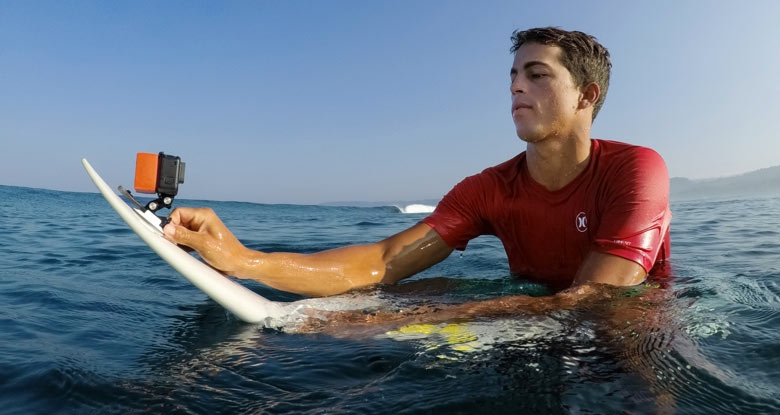 GoPro Bite Mount and Floaty Specifications:
Compatible with Hero5 and Hero6 Black cameras.
Will work with earlier GoPro's the same shape but float needs a compatible back door (not session as has own version)
Includes Floaty, an easy-to-spot device that keeps your GoPro afloat
Easy to use for hands-free POV capture in any environment
Integrated mounting buckle makes it easy to capture new POV angles and quickly change perspectives, or securely mount your camera
Ergonomic, rugged design and materials ensure comfortable mouth mounting and stable, shake-free footage
Warning: For ages 12+. Bite Mount + Floaty is not a protective mouthguard. Use caution during contact activities as injuries may occur.