The Peter Lynn Rally buggy replaces the legendary XR+ buggy and is a true all purpose buggy but made from galvanised powder coated steel. The stong connection bolts and fittings make the buggy super durable and with a reinforced and padded seat gives hours of comfortable riding.
The Peter Lynn Rally is perfect for a First buggy for people wanting to get into the sport and may be the only buggy you would ever need. It is designed of race and freeride geometry so has a great center of gravity for stability and balanced. Great stability at speed also inspires confidence in progressing, twin it up with a super stable kite like the Hornet from Peter Lynn and you have the perfect way into buggy riding!
Peter Lynn Rally Kite Buggy Features and Specification:
Balanced centre of gravity for doing tricks like 360's with ease.
Strong galvanised powder coated steel frame with reinforced connections
Galvanised steel nuts & bolts.
Specially curved side frames to ensure good body grip
4-bolt adjustable downtube
42mm diameter back axle with 20mm wheel bolts ensuring maximum strength
Luxury padded seat for a comfortable ride
35mm side frames for extra rigidity and strength
Made in Europe!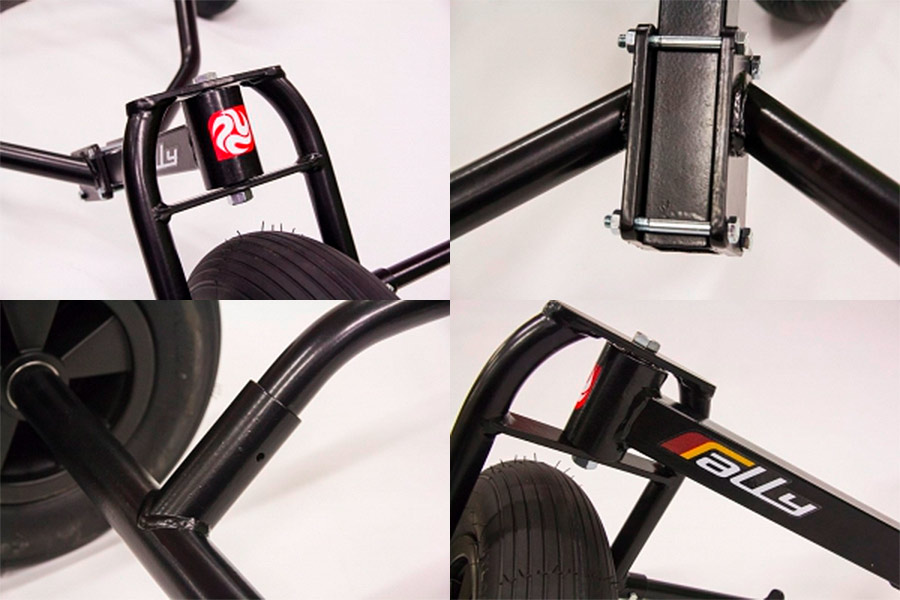 Quick Overview
Frame Material Galvanized powder coated steel
Seat type Luxury padded reinforced seat
Sideframe padding Padding with nylon sideframe covers
Standard wheel 4.8/4.00 -8 (16″)
No of frame parts 7
Approx. assembly time 10 min
Buggy Dimensions
Wheel base Variable
Track 111 cm
Front fork width 19 cm
Front fork tube diameter 28 mm
Footpeg diameter 22 mm
Footpeg length 21 cm
Footpeg ground clearance 25 cm
Downtube Length 44 cm
Downtube thickness 40 mm
Sideframe length 89 cm
Sideframe diameter 34 mm
Distance between sideframes 52 cm
Seat length 60 cm
Seat height 22 cm
Seat ground clearance Variable
Back axle width 102 cm
Back axle diameter 42 mm