In Stock & available for UK next day delivery
We were totally blown away by the fit, comfort and performance of the Flux PR Red for the price it is offered at. This is a totally redesigned binding at the "Basic Series" from Flux. But there is nothing basic about this binding or it's performance Flux have done an amazing job. The Flux PR Red is a unisex snowboard binding so fine for both men and women based on the shoe sizes below.
The Flux PR Red entry level snowboard binding, now more comfortable than ever stable performance in any condition and more bucks for the drinks!
Starting at the bottom and working up the baseplate is a nylon fibreglass mix for response and have a disc compatible with 4x4 and channel bindings.
The High back is a mid flexing nylon fibre mix that is perfect for all mountain riding and has forward lean adjustment from the bottom connection rather than a rear flad buckle so keeps the highback simple and clean.
The straps have filtered down tried and tested from Flux's other bindings and there is the moulded honeycomb strap and the full flux toe cap that is patented design for flux. The straps also have the Patented Flux UU fit which attaches the ankle strap fixing further round the back of the heel so it acts like a noose and does not increase boot pressure. The way that the PR binding differs from other flux is it is no longer tool less adjustment of the bolts and fixings but getting a scewdriver out once in a while is a small price to pay for saving a lot of money and having a sick binding!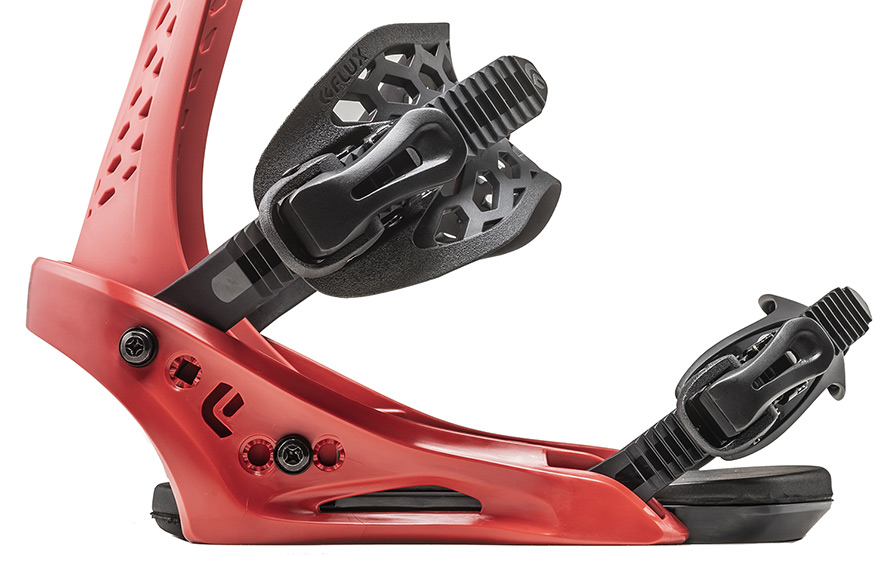 Size range:
UK 6-9: Medium
UK 9 +: Large
Flux PR Red Snowboard Binding Features and Specifications:
Stiffness 6/10
Lightness 4/10
HIGHBACK
Super Tough Nylon -A fiber mix with a medium flex that is perfect for all mountain riding.
Micro Adjuster -2.5 degree adjustment increments for the forward lean adjustments.
BASEPLATE
Performance Blend - A nylon and fibre glass mix for all-around performance.
Ez Bed
4x4 and Channel compatible disc
PR STRAP
Honeycomb Strap Ver2.0
F.T.M. Versa- Softer material and a better holding top or toe strap option. Designed to fit any boot on the market. (Patent: US6, 974, 149 – US7, 278, 651 – US7, 374, 194)
UU Fit - A 360 degree wrap evens out pressure for natural feel and hold. (Patent: US6,604,746)
Trigger Buckle
F.T.M. Versa