In Stock & available for UK next day delivery
The Salomon Pearl Womens Snowboard boots are amazing boots for the price. Salomon's design team have brought women specific fits into their whole women's range so you get a superb fit in all sizes. The Pearl BOA has many features that are normally on higher end boots in other brands including a BOA closure system making getting in and out of your boots quicker, easier and entirely stress free.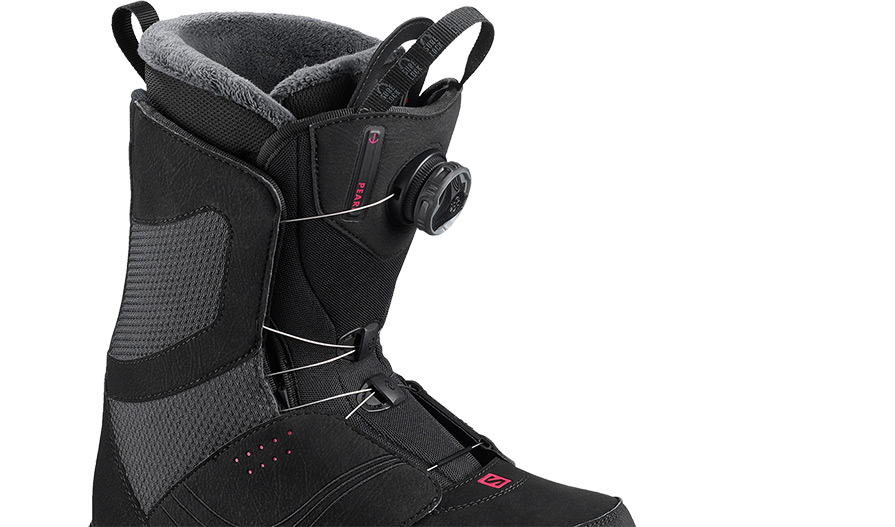 Coming from a long history of ski boots then the make up of the Salomon Pearl has amazing manufacturing techniques in this price range. The super lightweight EVA D-Lite outsole offers less drag on your feet while a gold reflective and heat remould able liners not only keep your feet warm but offer a fully customisable fit for unmatching comfort. To finish it all off the Pearl features an inner heel grip dedicated to locking your heel into place all season long!
Being a softer flexing boot then the Pearl is ideal for beginners and freestyle riders all over the mountain.
Salomon Pearl Womens Boots Specification:
BOA Closure system
BOA System warranty
Comfort - Gold reflective liners feature AutoFit foam tech and Ortholite insoles molding foam for lasting fit and comfort.
Heat remould able liners
Lightweight - Full EVA D-Light outsole is light, low profile and support under heel for comfort and damping.
Soft Flex - for forgiving freestyle all mountain ride.
Please note Salomon sizes changed for the 2019 season compared to earlier seasons. Please compare the sizes below to the Mondo sizings which should match any existing boots you may have.