In Stock & available for UK next day delivery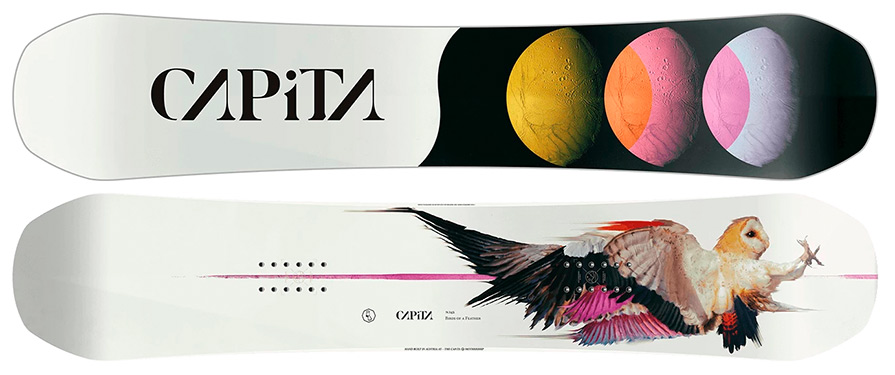 Possibly one of the most popular womens snowboard in the industry today, combining that shred anything and everything state of mind with that anytime anywhere spontaneous look on life; the Capita Birds of a Feather, having previously won every major industry design award the Birds of a Feather is your all-terrain destroyer inspired by Jess Kimura's Pro Model designs.
Slightly on the softer side, this park/ all mountain board uses a Hybrid FK profile that utilises all the advantages of a positive camber board such as the aggression and energy release in turns yet offers the predictability and response of a zero camber. Using a reverse camber or Wah-Pow! Flat Kick Technology in the nose and tail, the Capita Birds of a Feather also offers better float in the pow making for one truly diverse board!

The Birds of a Feather comes with all the epic features you 'd expect in a Capita board as well as eco friendly construction to accompany it. New for 2018 Capita have developed a Special Blend fiberglass using Magic Bean resin to increase the boards strength durability. Other epic features include an all new Superdrive sintered base with high abrasion resistance and an unbelievably smooth glide. New ABS100 sidewalls are reinforced using Fortress Kevlar bound side walls for extra durability when things get real gnarly on the mountain. Featuring a DS RFC sustainable dual core the Birds of a Feather also uses 2 x 30mm carbon beams running parallel through the centre of the board to increase snap and response whilst dishing out a whole other level of pop!

The Capita Birds of a Feather Women's 2020 Snowboard specs:
Hybrid FK shape
DS Select RFC Sustainable Dual core
Special blend fiberglass with new Magic Bean Resin
2 x 30mm Carbon fiber beams
Fortress Kevlar bound sidewalls
New Quantum Drive Sintered base
Multitech Level 5 Deepspace Silkscreen + PAM16000 Top sheet with Metallic Underlay
Multitech Sublamintion + Die cut base
PLT Topsheet technology
360 degree HRC48 steel edges
Full ABS1000 Sidewalls
Stainless Steel 4 x 2 inserts
Titanal base inlay
Struggling to find the right board for you? Maybe you are a little confused as to which size to pick? Take a look at out our Snowboard Buyers Guide for more information on what will be right for you!
LENGTH
EFFECTIVE
EDGE
WAIST
NOSE/TAIL
SIDECUT
MAX STANCE
(CM/INCHES)
SUGGESTED WEIGHT
(LBS/KG)
140
104.6
22.6
27.0 / 27.0
6.60
56.0 / 22.1
90-140 / 41-64
142
106.2
22.9
27.3 / 27.3
6.80
56.0 / 22.1
90-140 / 41-64
144
107.8
23.2
27.6 / 27.6
7.00
56.0 / 22.1
100-150 / 45-68
146
109.4
23.5
27.9 / 27.9
7.20
58.2 / 22.9
100-150 / 45-68
148
111.0
23.8
28.2 / 28.2
7.40
58.2 / 22.9
110-160 / 49-73
150
112.6
24.1
28.5 / 28.5
7.60
60.1 / 23.7
110-160 / 49-73
152
114.2
24.4
28.8 / 28.8
7.80
61.3 / 24.1
110-160 / 49-73
154
115.8
24.7
29.2 / 29.2
8.00
61.3 / 24.1
110-170+ / 49-77+