In Stock & available for UK next day delivery
Capita SuperDOA Snowboard is the product of taking the 7 years winner DOA snowboard and then adding every bit of high tech that the Monthership factory can do. New fibreglass, carbon weaves and resins, the fastest base made with race tune installed at the factory, full CNC core with profiling shapes milled out of the core to add engineered flex and save weight. But all the time through the design it still needs to ride like a classic DOA but with rockets attached. Boost bigger, spin faster and carve faster with the SuperDOA!
Capita have achieved the impossible and improved the classic DOA board. But it still feels like a DOA but on steroids! Love the DOA but want a even faster higher tech, higher performance ride then your new board is waiting!
The Defenders of Awesome has won every Good Wood Award since its existence for the last seven years! Winning for its eco friendly design and badass ride-ability since it's release and we can see why. The SuperDOA shares the same profile shape and camber with the classic DOA. It's unique base profile features a camber profile between the feet while flat under foot and Flat Kick rocker tips to keep that nose out the pow! What does that mean in riding terms? Well it bites well into beautifully in to turns at speed and holds a solid edge, but also offers some real nice float in the pow pow with the FK rocker'd tech. With a medium flex this board is your all mountain destroyer, a true weapon of gnarly without a disappointed shredder insight!
Please note all sizes of the Capita SuperDOA board come with a slightly different but still rad graphic. Check the gallery at the top for each graphic in the range.

The SuperDOA comes with all the epic features you 'd expect in a Capita board as well as eco friendly construction to accompany it. Capita have developed a Holysheet fiberglass using their Magic Bean resin to increase the boards strength durability. Other epic features include an all new HyperDrive super high grade sintered base with Moonshot Pro-Tune added for high speed and an unbelievably smooth glide. ABS100 sidewalls are reinforced using Fortress Kevlar bound side walls for extra durability when things get real gnarly on the mountain. Featuring a FSC 3D Hover Core which is sustainable full 3D shaped core which has been stiffened using two carbon weave beams running parallel through the centre of the board. These beams add a whole new level of snap and response whilst dishing out some rather serious pop!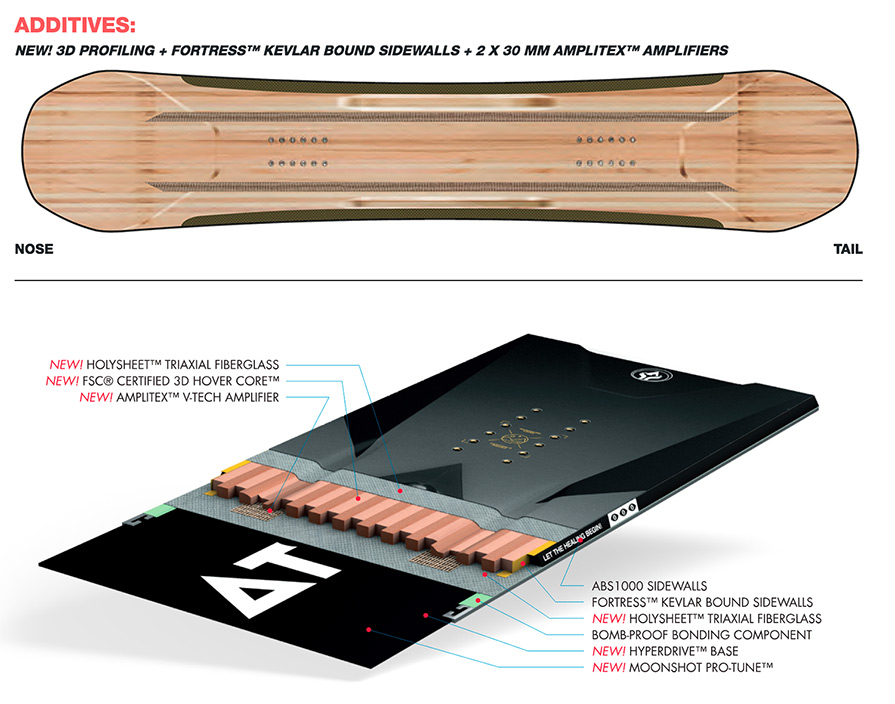 The Capita Defenders of Awesome (DOA) snow board specs:
All mountain and freestyle board with extra performance
Hybrid FK shape
FSC® CERTIFIED 3D HOVER CORE™ - Extremely lightweight and versatile core combined with high impact resistance and maximum pop.
HOLYSHEET™ TRI/TRI FIBERGLASS +MAGIC BEAN™ RESIN - Triax/Triax HOLYSHEET™ has higher glass to weight ratio than normal fiberglass. Impregnated with high performance plant based MAGIC BEAN™ RESIN for the most powerful and dynamic ride.
AMPLITEX™ AMPLIFIER - Grid woven tech tape featuring the response of carbon with the dampness of flax.
FORTRESS™ KEVLAR BOUND SIDEWALLS - Heavy duty protection with refined flyweight kevlar.
HYPERDRIVE™ BASE - Exclusively formulated, sintered, ultra-high molecular weight, ultra-high density polyethylene, custom engineered with special additives. Rated for the most depraved speed junkies ONLY.
MOONSHOT PRO-TUNE™ - Aftermarket performance stone grind structure straight from The Mothership.
Multitech Level 4 Deepspace Silkscreen + PAM16000 Top sheet with Metallic Underlay
Multitech Sublamintion + Die cut base
PLT Topsheet technology
360 degree HRC48 steel edges
Full ABS1000 Sidewalls
Stainless Steel 4 x 2 inserts
Struggling to find the right board for you? Maybe you are a little confused as to which size to pick? Take a look at out our Snowboard Buyers Guide for more information on what will be right for you!

---
LENGTH
EFFECTIVE
EDGE
WAIST
NOSE/TAIL
SIDECUT
MAX STANCE
(CM/INCHES)
SUGGESTED WEIGHT
(LBS/KG)
152
114.2
24.8
29.2 / 29.2
7.80
63.9 / 25.2
110-150 / 50-68
154
115.8
25.0
29.5 / 29.5
7.90
63.9 / 25.2
120-180 / 54-81
156
117.4
25.2
29.8 / 29.8
8.00
63.9 / 25.2
130-190 / 59-86
158
119.0
25.4
30.0 / 30.0
8.10
66.4 / 26.2
140-200 / 63-90
160
120.6
25.7
30.4 / 30.4
8.20
66.4 / 26.2
160-220+ / 72-100+
155 W
116.6
25.8
30.2 / 30.2
8.10
63.9 / 25.2
130-190 / 59-86
158 W
119.0
26.0
30.5 / 30.5
8.20
66.4 / 26.2
140-200 / 63-90
161 W
121.4
26.2
30.9 / 30.9
8.30
66.4 / 26.2
160-220+ / 72-100+