In Stock & available for UK next day delivery
The Vision Spark is an awesome, real bodyboard not a disposable toy. This is 100% waterproof XPS foam with XPE rails and HDPE slick base, boasting super durability with some give and great speed due to the slick base. There are also some smooth channels moulded in the tail of the base to give better turning and grip on the face of the wave. The great shape and construction makes easy wave catching and riding. The Vision Spark comes in 6 colours and the slick base has a marbled effect. Complete with a urethane wrist leash for security and less tangles.
*Please note this is older stock from 2020 and is in the sale as clearance
So the Vison Spark is ideal for people starting out in bodyboarding and wanting a durable board not a disposable board. Better for riding and the environment!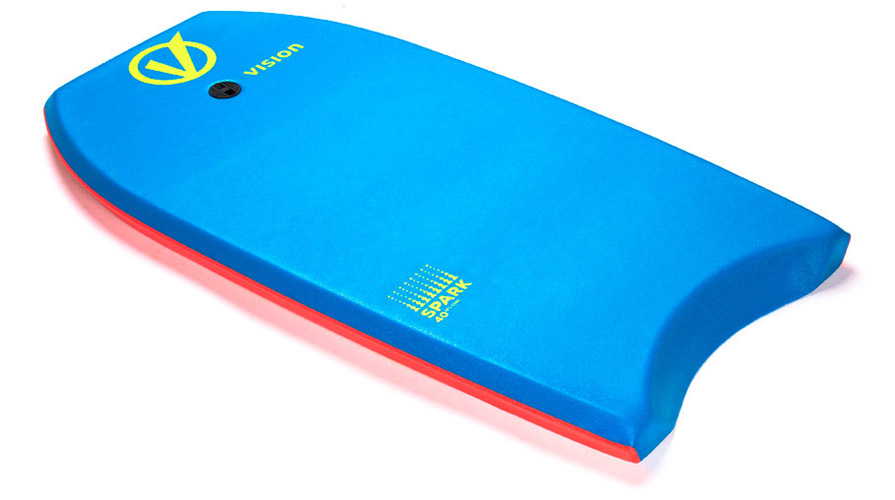 We stock the Spark in two sizes in the shop as we find they are the best, the 36in is perfect for junior riders 4-5ft up to 45kg whilst the 42in is suitable up to adult size for 6ft riders up to 80+Kg.
Vision Spark Bodyboard Features and Specs:
Board Sizes: 36" - 42"
Construction: Heat laminated construction
Core: 100% waterproof XPS
Deck: 4mm XPE
Rails: 4mm XPE
Bottom: 0.4mm HDPE slick (marble)
Leash: Straight urethane
Features: Channels