Beat the fiendishly expensive system that is overpriced sports luggage at check in with the new Mystic Golfbag Pro Kitesurf and Wake Board bag now with highly durable HXcomb material! Many airlines still offer free air fair for golfing equipment to support the sport but unfortunately no other sports qualify for this special treatment so it is down to us to deceive with a Golfbag shaped Kite/Wakeboard bag. Simply dress up as a golfer and say yes if they ask if it is Golfing equipment and pray for the privileges of free air fair on all your kite equipment saving you £££!
The Mystic Golfbag Pro Kiteboard Bag sits closely to the Mystic Gearbox Square Kitesurfing Travel Bag and as another step up to the Mystic Matrix Square Board Bag which is thinner than the Gearbox and Golfbag. Now with an all new material you can rest assured knowing your kit is going to reach its destination with no issues! This new HXcomb material has left us astounded here at ATBShop and you can instantly see the difference in quality and durability! With integrated XL wheels to take the load off the shoulders these wheels have been designed to take on a variety of different terrain making it easier for you to conserve your energy for the big sessions ahead!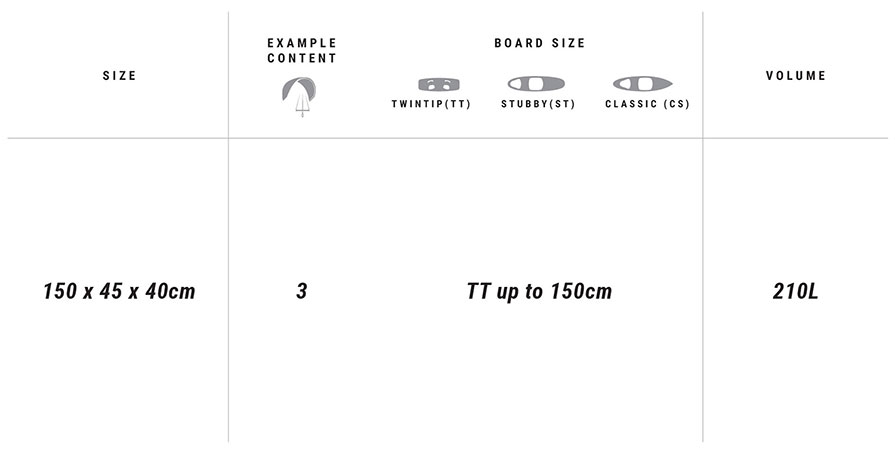 If you want to take more kites with you and need the extra space you can easily fit the amount in shown in the chart below and if you use Compression bags instead of the normal kite bags then our record for a trip at 32Kg has been - 17m, 12m, 9m, 12m foil with bar, 2 x kiteboards, 2 x straps sets, 1 x wake boots, 2 x harnesses (had to put bars in another bag as overweight but would have fit but too heavy!)
The Mystic Golfbag Pro Kite/ Wake Board Bag has a really nice thick padding exterior and board divider so doesn't need any added padding such as bubble wrap etc and is still quite light weight for your total baggage allowance on flights. If you need to shave the maximum weight for equipment and do your own padding then check out the Mystic Elevate board bag as it's the same size but without the padding and able to remove the wheel section.
The Mystic Golfbag Pro Kite/ Wake Travel Board Bag Sizes:
Mystic Golfbag Pro Kite/ Wake Travel Board Bag with HXcomb Shell Features and Specifications:
Golf Bag Shape
Potentially free equipment air fair! (Golf outfit required)
HXcomb highly durable material
PVC Coated 600D Polyester
Heavy duty tarpaulin inside
XL All terrain wheels
Protective padding on critical areas
Padded board divider
360 Webbing equator
EVA Ergonomic shoulder strap
Compression straps
Core support strap (red)
Heavy duty carry handles
2x 3D Mesh air vents
2x Transparent inner pocket
Heavy duty zipper
Zipper protection edge
Address card pocket