Out of stock. Sorry, This item is now Discontinued.
Related Products
We were really stoked when the original session was released but after using it we were slightly disappointed by the video quality. Now there are two session cameras in the range that original hero session is the entry level camera at now a great price for the specs and we truly have the session camera we were hoping for with the GoPro Hero 5 Session! Now boasting 4k recording and 90fps 1080 and great low light it gives the visuals we wanted with the compact size and easy to use function of the session. Add in the new voice commands and image stabilisation and just WOW! We will have a more in depth review once we have spent more time with our new friend the Hero 5 Session but till then see our specs and key points below.

Check out the launch video below to see what is possible with the new GoPro Hero 5 Session Camera.
Water proof to 10m without a special case for scuba
Still high specs with 4K @ 30fps and 1080@ 90 fps is more than enough for any action sports fans!
10Mp photos with timelapse and 30fps burst mode.
Field of Vision Modes (FOV) SuperView, Wide, Medium, Linear, Narrow
In built image stabilisation for removing camera shake automatically.
Two microphones so the camera works out the best to use for clearest sound.
Talk to your camera! Voice activated modes without pressing buttons.
Bluetooth and wifi connection to make it easy to connect to accessories and phones etc.
1000mAh lithium-ion rechargeable built in battery.
Still compatible with all normal gopro mounts and accessories.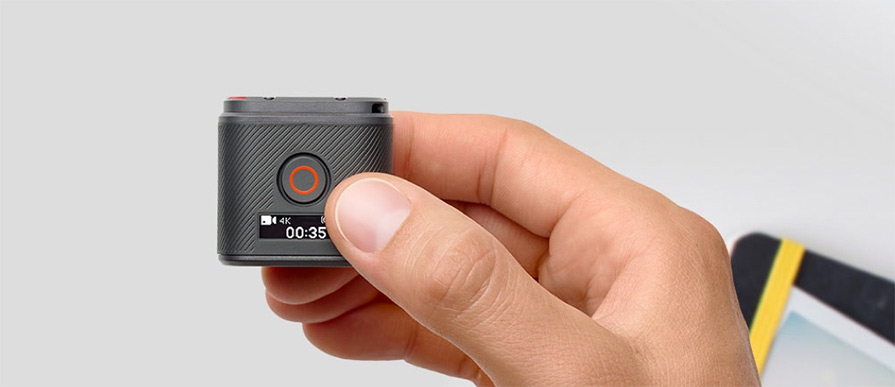 Those are the basic important specs but one thing not to be under rated is the new gopro editing apps. These can take the videos you just shot and automatically edit them with music and pictures to give you a file ready to publish online in moments. So you can be taking some videos on the river/beach/mountain and then instantly edit and publish a great looking video to instagram or facebook or youtube! (as long as your phone has a data connection) This can also only get better as the software has quicker development than the camera hardware.
The GoPro Hero 5 Session camera comes in a kit with Camera, Lead, Frame Housing, Curved and Flat sticky mount. It does not come with a Micro SD card which it needs a Class 10 UHS-1 card, we recommend a 32Gb or larger card.