Kitesurf Beach Social

Next Date: Wednesday 14th August - Weston-Super-Mare Evening
We have managed to bag a extra date for a demo and social on Weston-Super-Mare Beach this Wednesday Afternoon. The tides are looking good and high and there is some wind forecast but not as manic as last weekend! Liquid Force team are also touring the UK at the moment doing demos and can join us with a van full of gear! So get down from 4pm till 8pm a cheeky afternoon/evening session.
Location wise we will be in the Royal Sands end of Marine Parade in the beach carpark (Map Link)
Tide Times Wednesday 14th August: - Low Tide 12:43 - 1.55m, High Tide 19:13 - 11.19m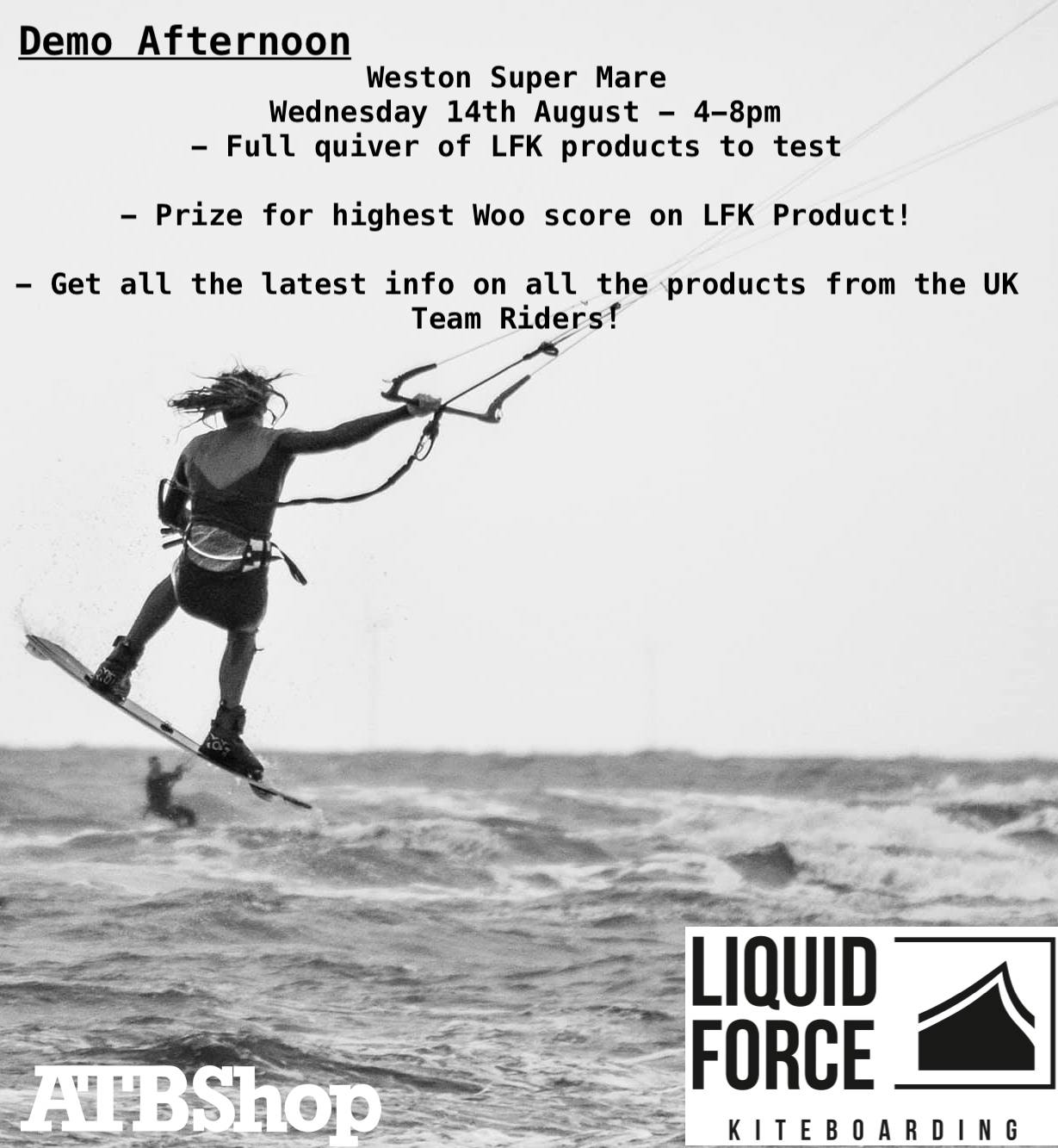 About the ATBShop Beach Social:
The ATBShop Beach Social is a great way to get involved and meet other kite flyers and check out the latest new gear on the beach. As we are a rider run shop we like to get on the beach as often as we can. Being based in Swindon we are used to travelling but have some great beaches not too far away from us! We are going on tour to some of our favourite locations in the UK and want you to come with us! A great part of kitesurfing is travelling to new locations even in our own British Isles there are some stunning beaches out there.
These are all beaches that are suitable for all levels of rider not just the experts. We will have some kites and boards for experienced riders to test out on the beach too. Just look for the ATBShop blue flag and come and say hello. Due to the fickle weather on our island we have decided to generally work out the location the week before so we get the best location possible for the conditions.
Testing Equipment and Lesson Clinics:
If you are testing equipment then we need you to be a competent independent rider that can ride upwind etc. If you want to learn or improve then we may have a school able to assist depending on our beach location. Please contact us for advise.
Never flown before but want to give it a try?
If you have never flown a powerkite then we often also have "free taster powerkite sessions" running on the beach so anyone can come along and have a fly of a powerkite and hopefully enjoy powerkiting and perhaps think about kitesurfing or landboarding in the future.
Hope you can come along and get involved and have a ride with us this summer. :-)
2019 ATBSHOP BEACH SOCIAL DATES
MAY 19th - SUN - ATB Beach Social - (No Wind Forecast) - Westward Ho!
MAY 26th - SUN - ATBShop Liquid Force Demo - Weston-super-Mare
JUNE 8th - 9th - SAT / SUN - ATBShop Social - Cancelled
JUNE 22nd-23th Kitesurfing Armada (Hayling Island)
JULY 6th - 7th - SAT / SUN ATBShop Social - Cancelled - No Wind :-(
JULY 13th-14th SAT / SUN BKC Skegness - Competition
JULY 21st SUN ATBShop Social - Pembrey South Wales
AUGUST 9th-10th FRI / SAT North Kites Lauch - Poole
AUGUST 14th WED - Liquid Force Demo - Weston-super-Mare
AUGUST 24th- 25th BKC Ramsgate - Competition
SEPTEMBER 7th-8th - SAT / SUN ATBShop Social - Location TBC
SEPTEMBER 28th - 9th OCTOBER - Egypt, ATBShop El Gouna Trip.
Beach Locations may be visited:
South Wales, Solent, Cornwall, North Devon, Sussex. (Decided on the week before the demo based on forecast and conditions)
Check out the video below to see what the beach social days are all about!