Burton Mission Reflex Snowboard Bindings in Orange Sick Le
hugely popular binding year after year
SnoBurton18_Bind_MissionRF_OR_L
Burtons oldest running and most reliable binding. Featuring a bomb proof construction, the Mission is your go to binding regardless of your riding style and ability!
Out of stock. Sorry, This item is now Discontinued.
Related Products
For those who like to stand out on the mountain this season!
The Burton Mission snowboard binding has been the forefront of Burton's range for years and a great all mountain binding. Slightly more responsive than the Burton Cartel the Burton Mission binding still however boasts it's lateral flex a to help with comfort and flex in the park. The Mission EST binding is great for the all mountain shredder who want's a bit more natural flex through their board for better response at higher speeds and when cruising in powder. Known for their bomb proof construction, great value and performance, the Burton Mission is ideal for riders from beginner to advanced who want a versatile binding to shred all over the mountain.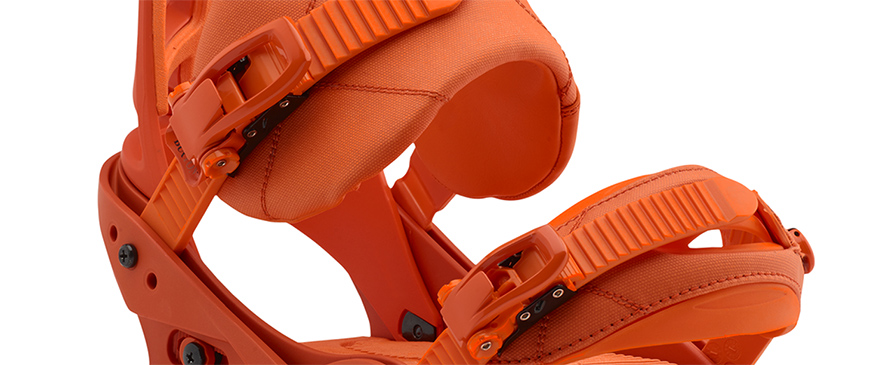 The Reflex is the sibling to Burtons EST binding, however is compatible with regular boards. The Reflex also features a split base plate to enable your board to flex more naturally under foot.

The Burton Mission Reflex Snowboard Binding in Orange Sick Le quick specs:
Single-Component Baseplate Construction- Single material creates better response
30% Short-Glass/ Nylon Composite- Responsive yet playful
Single-Component Hi-Back Construction
Living Hinge Hi-Back- Eliminates excess hardware weight
Zero Forward Lean Hi-Back
Canted Hi-Back Design
Dial FLAD
Reactstrap
Flex Slider- Quick and easy strapping in and out
Gettagrip Capstrap
Smooth Glide Buckle Technology- Lightweight aluminium and polycarbonate
SensoryBED Cushioning System
Re-Ground Materials- To reduce weight and carbon footprint
Burton Mission EST snowboard binding sizes:
Medium - Boots UK 7-10
Large - Boots UK 9+