In Stock & available for UK next day delivery
The Salomon Rhythm is a no frills but awesome unisex binding perfect for riders getting into snowboarding. There are many features that make this binding super good but the main ones are; Soft Flex with 30% composite baseplate and Asymmetrical supportive highback. This gives a forgiving comfortable binding that is simple to use and responsive in riding.
The Rhythm is a great all mountain and park binding that gets you ripping all over the mountain at an amazing price for the specification it has.
Salomon Binding Sizes: M - UK 6-9, L - UK 9-12 (if you have very chunky size UK8/9 boots then you probably need the large)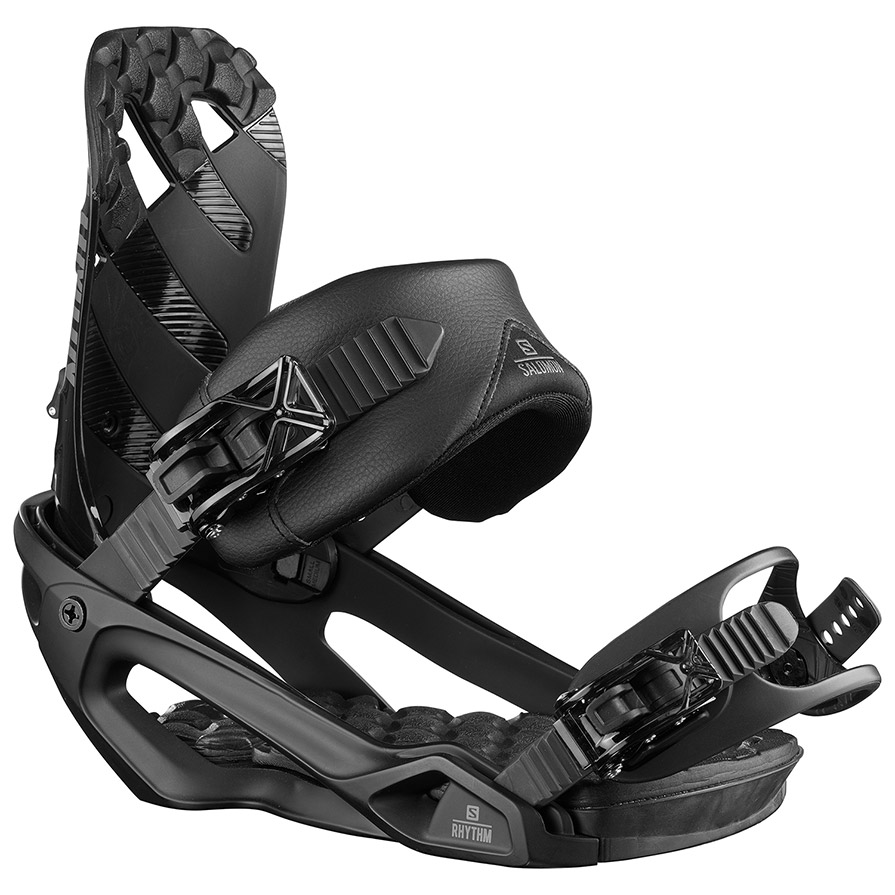 Soft Flex: More manoeuvrable at slow speed and more forgiving in general. This type of flex is great for beginner/ intermediate riders and for advanced rider who prefer a looser more skate like feel, for a freestyle practice.
Baseplate: Boarding basic. Durable and easy to fit, available in three sizes, the Zone baseplate is easy to use, easy to ride.
Baseplate Composite 30%: Get the most out of our bindings. More rigid than our competitor's low end plastic, more durable and comfortable than aluminium. Performance is maximised,comfort is undeniable.
Highback Filter: Exclusive to Salomon. Our unique vibration filtering material absorbs unwanted shock: less leg and foot fatigue, more riding.
Highback Rhythm: Asymmetrical shape to increase the support on the outside and tweakability on the inside while keeping a perfect anatomical shape to prevent any pressure point. This highback is made for a smooth ride and allows riders to be comfortable while improving their riding skills.
Padding Canted Footbed: Instantly add pop power and extra edge control to your riding with our 2.5° canted footbed. Easy on the knees and no loss of board-feel.
Padding Full EVA: Full pad cushioning system maximises comfort while minimising fatigue.
Toe Strap: Our upgraded, cored out Lock-In Toe strap grips your boot to simplify and secure your set up.
Ankle Strap: Our 3D strap construction is super soft and padded out for a maximised cushy feel and has a torsional flex for support with no pressure points. One squeeze and you'll be hooked.
Straps Tool Free Adjustment: Just that: easy length adjustment on the fly with no tools needed.