In Stock & available for UK next day delivery
So the new EM is a new binding from Flux this season and fills the gap between the PR and the rest of the Flux range with an awesome value for money binding that has loads of the superb flux designs and features. The new Web highback on the EM is superlightweight but supportive and the shapes cut from it give great lateral flex to keep it comfortable and easy to ride. there are all the other standard flux features here of Honeycomb straps and the UU Fit for the heel strap which elevates pressure points on the top of the binding and full toe cap strap. Also added to this binding is a fast and easy forward lean adjuster that lets you dial in the adjustment as you need.
The Flux EM Black Snowboard Binding gives awesome performance for all mountain riding new Web Highback and all the standard Flux features but with no excess frills keeps the price very reasonable!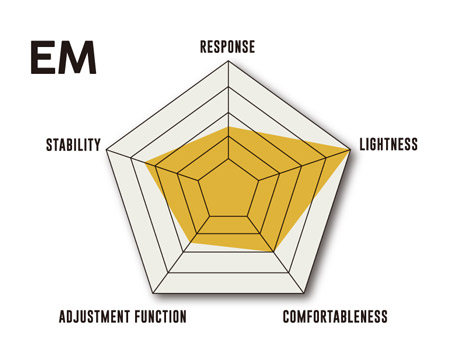 FLUX EM HIGHBACK SPECS:
Web - New zoned flex web highback for support and comfort.
Super Tough Nylon -A fiber mix with a medium flex that is perfect for all mountain riding.
Redux Lean Adjuster -Lightweight thanks to its smaller size. Adjusts easily with a single motion.
Micro Adjuster - Adjust forward lean in 2.5-degree increments with each click for even finer high back settings.
FLUX EM BASEPLATE SPECS:
Disco - An ample-sized contact area with the board. Middle portion flexes for easy handling and improved stability.
Performance Blend - A nylon and fiberglass mix for all-around performance.
Adjustable Toe & Heel Cushion - A movable cushion that can be adjusted to suit the boot size and board width.
Ez Bed - Separates from the base plate to allow for easy change of toe positioning. Offers three different configurations. Adjustments possible even when mounted to board.
FLUX EM STRAP SPECS:
Honeycomb Strap Ver.2.0 - The lightweight honeycomb structure provides excellent shock mitigation, grabbing the ankle for the ultimate hold.
Trigger Buckle - A newly designed buckle that fits snugly in your hand thanks to its relatively large size. Even new riders can crank it to its tightest setting. The trigger portion is thicker making catching easier, and offers better resistance when stepped on.
F.T.M versa - Versatile use as a toe strap or foot wrap for any style of riding. Uses a flexible material designed to fit any boot on the market.
UU Fit - The strap system that provides a 360-degree hold, providing a natural hugging feeling and uniform pressure.