In Stock & available for UK next day delivery
Achieve the support and stability you need to really explore the mountain to the fullest. Go higher, further and faster than you ever imagined you could with all the support of the Salomon Highlander Snowboard Binding. Offering a responsive flex high back with a unique flexible heel loop for a complete anatomical fit, the Highlander is the snowboard binding that does more.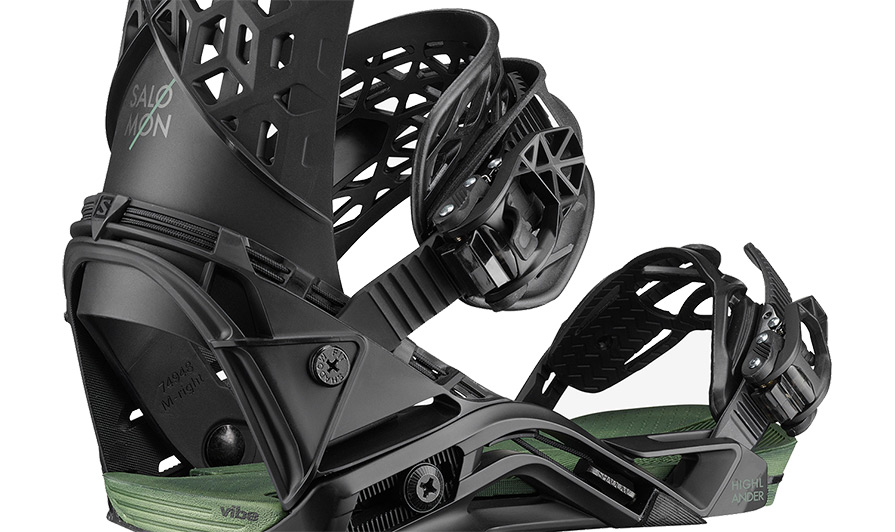 Featuring a Minima 3D Highback that provides long lasting power for precision riding, the Salomon Highlander is the choice of binding for the rider that enjoys the hard charging nature on piste and the long carves in the deep stuff while riding back country. Salomons Shadow Fit baseplate opens up opportunity using a 3 piece construction and uniquely flexible heel loop that offers intuitive mobility, further flexion and control meaning those natural features simply cant be left un sent! Integrating a Kevlar Quickwire system in to the flexible heel cup ensures maximum lateral support and energy transmission while a Shadow Lite Heel Strap offers enough comfort to feel like you are almost riding without bindings!
Salomons mouldable Locked-Up Toe Strap encases the front of your boot and pushes your ankle in to the back of the binding providing the perfect fit without any heel lift. In the base of the Highlander we have a 2.5* canted footbed for better anatomical alignment of the knees while the high impact zone under the heel has been reinforced with Vibe cushioning for performance level and lightweight vibration damping.
The Salomon Highlander Snowboard Bindings Specs:
Mid- firm flex
Responsive flex
Shadow fit baseplate
Shadow lite strap
Minima 3D highback
45% Composite construction
Adjustable toe ramp
Universal disc
Integrated mounting system
Kevlar quick wire
Power hook
Unite disc compatibility
Vibe damping system
Canted footbed
Locked-up toe strap
Micromax strap adjustments
MP Ratchet
Aluminium buckle