In Stock & available for UK next day delivery
Combining a highly unique flex with all the support needed to embrace your time in the park and play throughout the mountain. Offering excellent all mountain performance for a girls first snowboard or the ultimate freestyle companion featuring a mid flex high back and insane Shadow Fit Baseplate, the Mirage isn't just something that is great to look at, it rips hard to!
This womens specific freestyle binding pulls forward a serious bang for your buck offering up Salomons ShadowFit Baseplate which uses a highly unique, flexible heel loop for a better flex offering and complete anatomical fit around the heel of your boot. Chuck in a Kevlar Quick Wire to reinforce lateral support and channel energy directly into the board then the result is locked in presses, unrivalled playfullness, maximum tweakability, comfort and fit that cannot be compared to a regular snowboard binding.
Salomon Snowboard Bindings Size Guide:
Small -UK2.5 - UK6
Medium - UK7.5 - UK8.5
Large - UK10 - UK12.5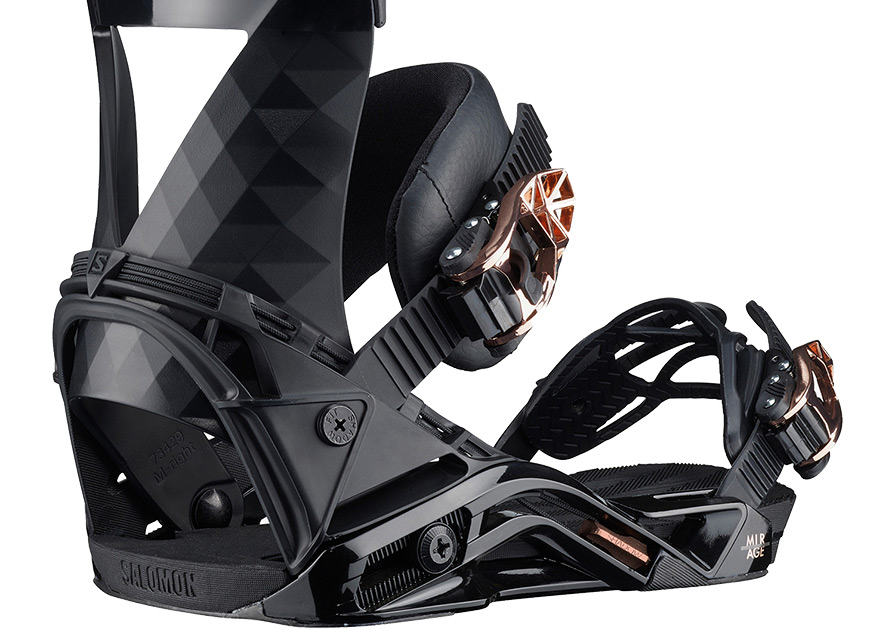 Featuring a high performance high back with strategic flex zones the Mirage has been optimised for a freestyle riders stance offering better response and increased comfort around the calf. To aid the anatomical alignment of the knees Salomon have used a canted footbed while SCS + Full EVA footbed offer a high level of shock and vibration absorption to reduce fatigue and keep those knees fresh.
The Salomon Womens Mirage Snowboard Bindings specs:
Medium flex
Freestyle
Shadow fit base plate
3D Asym supreme ankle strap
Mirage high back
30% Composite construction
Adjustable toe ramp
Universal disc
Intergrated mounting system
Kevlar quickwire system
Power hook
Unite disc compatability
Womens specific geometry
SCS+ Full EVA footbed
Canted footbed
Locked-up-toe strap
MP Ratchet
Aluminium buckle