Out of stock. Sorry, This item is now Discontinued.
A super striking boot from Deeluxe to celebrate it's 20th anniversary of making snowboard boots the 9six in Midnight is so modern and retro at the same time! The tech in the boot is also awesome. The mix of C3 speed lacing for heel hold and traditional lacing for the general boot give you a locked in feel and not cramp your feet. The general fit shape of the boot is a wider toe box and narrow heel which seems to fit many european foot shapes and often people are finding they fit a little smaller boot than previous in other brands. The PF Performance liner doesn't need any bedding in and is just super comfortable from the off without needing to heat mould but does seem to last well without going crazy soft.
There is so much high end spec in these boots we would be here forever going through it all so these are the key points if you want to get any more in depth info then please check out deeluxe's product tech section or the video at the bottom of this page and be prepared to never know so much went into boot design!
We tested these boots out and couldn't believe the comfort and ride compared to other boots so had to get them in store this season! We didn't want to give them back to deeluxe so much we managed to score an early pair for the rest of our riding this season. If you have had issues getting a boot to fit nice in the past for all day comfort then it's worth trying some Deeluxe boots on to see if they fit you better as they are different to the other brands we stock. Boots are always a very personal thing so we always recommend trying on many different ones to find your perfect fit.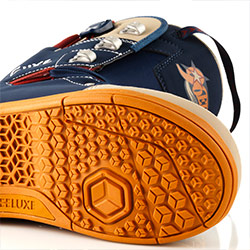 D Lug outsole cushions and cradles your feet while its lugs act like suspension and dampen vibrations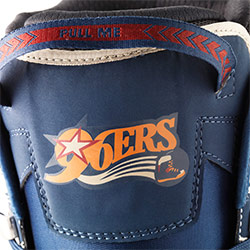 This limited edition boot celebrates Deeluxe's 20th anniversary this year
With a nod to Deeluxe's heritage, this boot features classic laces and the latest in speed lacing technology
Deeluxe 9six Midnight Snowboard Boots Features and Specification:
PF Performance Liner - Premium performance, optimum support.
Highback and Heel Harness in PF Liner.
Dupont Surlin Highback built into boot for response.
Waterproof Construction - precision stitching and sandwich keeps feet happy and dry.
C3 Lacing and Tradtional Lacing for best of both worlds.
Easy Flex for maximum comfort without boot heel blowout.
D-Lug Outsole to give maximum impact support but also individual lugs give board feel like a skate shoe.