Out of stock. Sorry, This item is now Discontinued.
Related Products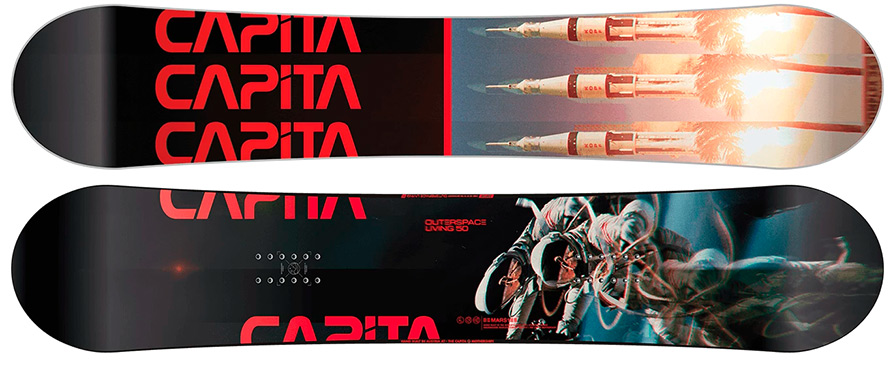 Your first choice for all mountain domination with a main focus of riding hard and fast in the park while having the capability to really send those natural features on powder runs. The Capita Outerspace Living has evolved from the Mercury to provide a high speed edge control with insane carveability across a diverse amount of terrain that will really remind you as to how epic a camber board really is.

Using a positive camber platform running between contact points to meet a reverse cambered tip and tail, the Outerspace Living offers the potential for high energy release carves with a more traditional aggressive riding style. The reverse cambered tip and tail will give you plenty of float to keep your speed while Capita's mid flex rating and strategically placed, inlaid Titanal struts reduce torsional flex for enhanced stability at high speeds. The name Outerspace Living we can only assume was thought of when the board was found to be sending the Capita team into outer space! These aluminium titanal struts add a serious level of pop and snap over features and act as a structural reinforcement.

Bomb through the park and the pow with the Outerspace Living from Capita. At home buttering a box and dropping a power field. 2020 model has upgraded sintruded base for higher speed and glide!
The Capita Outerspace Living Snowboard features:<
All mountain freeride and park

Intermediate level riders

FSC Certified dual core

Inlaid titanal struts

Special blend fiberglass magic bean resin
Superdrive EX Sintruded base
Multitech Level 5 Deepspace Silkscreen + PAM1600 topsheet with metalic underlay
Multitech Sublamination + Die cut base
PLT Topsheet technology
360 Degree HRC48 steel edges
Full ABS1000 sidewalls
Stainless steel 4 x 2 inserts
Titanal base inlay
Winner of Good Wood awards
Struggling to find the right board for you? Maybe you are a little confused as to which size to pick? Take a look at out our Snowboard Buyers Guide for more information on what will be right for you!
LENGTH
EFFECTIVE
EDGE
WAIST
NOSE/TAIL
SIDECUT
MAX STANCE
(CM/INCHES)
SUGGESTED WEIGHT
(LBS/KG)
150
111.6
24.2
28.4 / 28.4
7.60
60.9 / 24.0
100-150 / 45-68
152
113.0
24.3
28.5 / 28.5
7.70
60.9 / 24.0
110-160 / 50-72
154
115.0
24.8
29.1 / 29.1
7.90
63.5 / 25.0
120-180 / 54-81
156
116.6
25.0
29.5 / 29.5
8.00
63.5 / 25.0
130-190 / 59-86
158
117.7
25.3
29.7 / 29.7
8.05
67.5 / 26.6
140-200 / 63-90
160
119.0
25.6
30.2 / 30.2
8.10
67.5 / 26.6
150-210+ / 68-95+
155 W
115.8
26.0
30.4 / 30.4
7.90
63.5 / 25.0
125-185 / 57-84
157 W
117.4
26.2
30.7 / 30.7
8.00
63.5 / 25.0
135-195 / 61-88
159 W
118.6
26.4
30.9 / 30.9
8.05
63.5 / 25.0
145-210+ / 66-95+