Out of stock. Sorry, This item is now Discontinued.
Related Products
The dryrobe® advance with short sleeves. A premium quality outdoor changing robe that is ideal for changing sports clothing or wetsuits outdoors.
We love the great outdoors, no matter what the weather. However once the fun stops and it comes to peeling ourselves out of our cold wet wetsuit things can get little tricky, and sometimes indecent, especially in a busy car park!
The waterproof & windproof exterior fabric will stop the cold wind and keep you warm in between sessions. It can comfortably be used multiple times throughout the day without becoming soggy. And you will still be able to use it to get changed at the end of your session.
Dryrobe has been designed to allows plenty of room to pull your arms in through the sleeves & get changed out of your wetsuit while completely inside it, keeping your decency!
After getting changed, wear your dryrobe over your dry clothing . You will be the envy of all you friends and they will all be asking to borrow it.
"Get dry, cover up & stay warm with dryrobe®"

Features:
Super warm lining - Dryrobe lining is a synthetic Lambswool (51% acrylic, 49% polyester) which draws the water away from your skin, drying you instantly while insulating you and making you feel unbelievably warm.
100% waterproof and windproof outer shell fabric. One piece body construction with no shoulder seams.
Sealed seams. All the seams on the dry robe advance are sealed. this, along with the minimal seam design ensure the best protection possible from the elements.
External fleece lined external pockets to keep your hands warm & store your essentials with super safe, chunky YKK® Zips.
A huge 20 x 26cm internal 'soft lined pocket for storing underwear, clothing or thermal base layers.
The inside chest pocket can safely store your valuable items sealed in the '2 way waterproof' design. Your valuables cannot get wet from the outside or from the inside (if you are wet or in a wetsuit).
Internal zip entry iPod, MP3 / wallet pocket
Full length 2 way reversible YKK® zip - You can operate the zip from inside the robe, while changing, or from the outside, as normal. Providing essential fast, easy exit & entry. Our Unique chunky YKK® Zip front -
Standard wide easy fit change space at 84cm, dryrobes most relaxed 'easy change' fit to date.
Super light construction - The lightweight materials and design ensure that the dryrobe advance is surprisingly light. At only 1.3kg your robe can be packed down small into a compression sac, or carried anywhere easily.
The warmest change robe on the planet!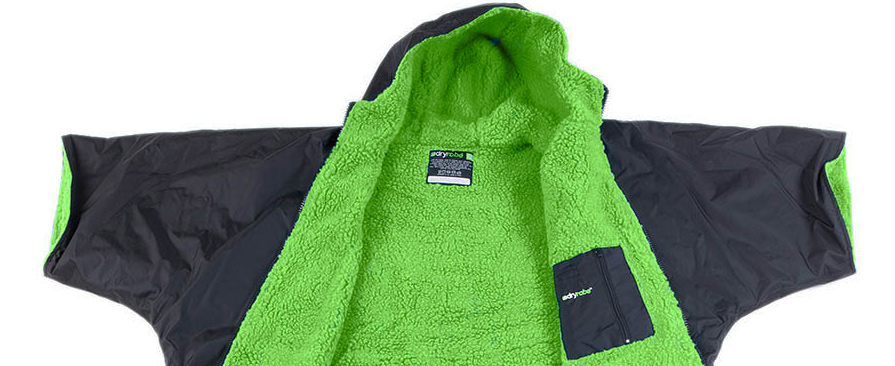 Sizes:
X SMALL - Length 80cm Change space 70cm - longer sleeve for extra coverage (suitable for kids age 5-10)
SMALL DRYROBE: - Length : 90cm long from shoulder body change space 75cm wide. (Suitable from age 8-15 & small adults up to 5'2" approx)
LARGE Size : Length : 1.2m long from shoulder body change space 84cm wide, The Adult size suits 5'3" up to 6'3"
XL - Length : 1.4m long from shoulder body change space 95 cm wide, The Adult size suits 6' upwards or for the wider build. (Black & Grey / Black & Red Only)