In Stock & available for UK next day delivery
The Majestic is back and now fully zip free for the ultimate seal against the winter elements! No zips means no way of water seeping through the gaps and compromising the inner climate of the suit. The Mystic Majestic 5/ 3 wetsuit has been a best seller for us here at ATBShop for winter performance wetsuits due to its un matching warmth, comfort and not to mention look!
Please note due to the white nature of the arm on this suit the glue can sometimes look brown on the seams in contrast. The suits are cheaper now for this reason and should wash out in use.
Combining Mystics highest quality M-Flex 2.0 neoprene with some of the latest and advanced stitching methods such as GBS and waterproof stretch taping for additional reinforcement, longevity and to create an effective barrier against the cold. The Majestic specialises in keeping you toasty when things are frosty! Exclusively to the Len10 range, Ruben and the team have developed an entirely new inner liner; Flaremesh increases the level of heat retained inside the suit with its highly heat reflective carbon backing behind a soft insulation with quick dry feel.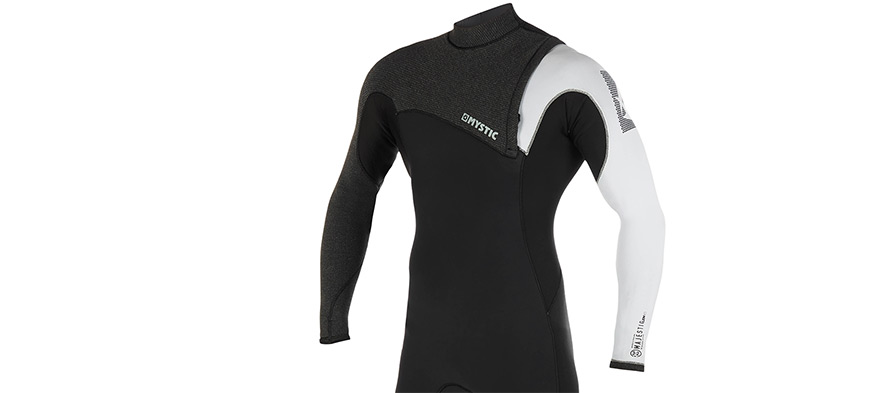 Featuring extraordinary stretch, comfort and warmth the Mystic Majestic Len10 is the pinnacle of innovation and will provide the needs to make those winter sessions like a mowing the lawn on a summers day, just maybe not so sunny!
The Mystic Majestic Len10 5/3 ZipFree Winter Wetsuit specs:
No ZIPS!
GBS (Glued Blind Stitched)
Waterproof and stretch taping
Mesh neoprene back panel for wind deflection
4- way stretch kneepads
Velcro ankle closure straps
Non- slip cuffs
Key pocket 2.0 with key loop and mini-buckle
Aqua flush
M-Flex 2.0
Flaremesh
Knitflex