Out of stock. Sorry, This item is now Discontinued.
Related Products
Take your favourite wind sports to the water, land and even the snow! The brand new Ozone Wasp V2 Wingsurfer is the first of its kind to be seen jumping with a hydrofoil (video below), because Ozone is very well known to be flying through the sky! The Wasp V2 can easily be crossed over and provide power from the wind across the elements such as mountainboard/ skateboards/ longboards on land, to hydrofoil/ SUPs/ small boats on the water, all the way to snowboards and skis on the snow! Find something with wheels or stable enough to support your weight, add a sprinkle of wind and the limit is your imagination!
Please choose your size, add to basket and leave your desired colour choice in the description box, or please just contact us, directly!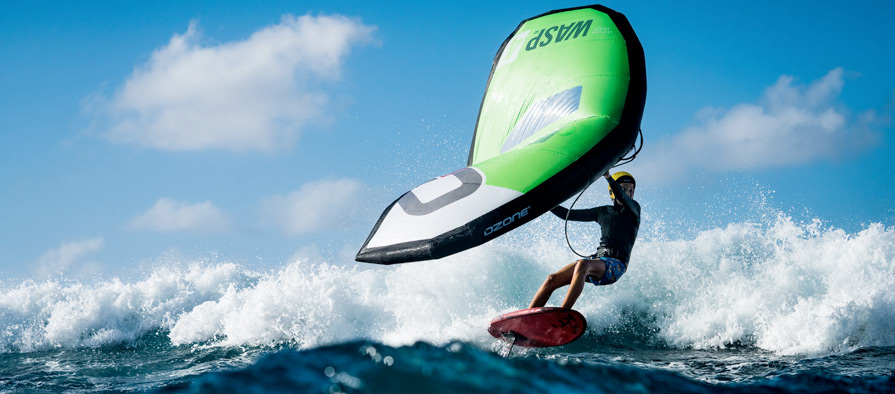 Featuring a whole load of fun driven by a large sized leading edge for additional stability and reduced flex, the Ozone Wasp V2 also uses an enlarged strut with multiple power handles to offer plenty of options for the right angle of attack. The aspect ratio of the wasp has been developed to provide more instantaneous grunt while preventing the wing from being dragged along the water or ground. The wing tips have been reinforced with scuff protection as an additional measure against the ground and snow while the Teijin double ripstop canopy offers protection against tears.
The Ozone Wasp V2 Wingsurfer Specs:
Ozone Quality Factory Construction
Teijin TechnoForce D2 and Teijin Dacron
Double stitched and folded seams
Reinforced trailing edge
Unique bladder construction
One-Pump inflation system
De-Power handle
Ozone Wasp V2 bag
Designed with OZ-CAD
Internal reinforcements
Direct connect strut
Low profile aerodynamic scuff pads
High volume inflate/ deflate valves
Power control handles
Wrist leash
A streamline de-power handle has been added to the center of the leading edge for down wind carving while this also offers a way of completely de-powering the wing when battling swell or swimming out. In strong winds it has been made possible to ride the Ozone Wasp Wingsurfer with smaller volume hydrofoil boards.