Out of stock. Sorry, This item is now Discontinued.
Related Products
The All Round board from CrazyFly does exactly what it says on the tin! It's an awesome all round freeride to freestyle board that shares much of it's shape with the classic Raptor Pro board and is super fun and easy to ride. If you are just out of your lessons and looking for a first board to take them through everything from charging upwind and getting over and around waves and starting to freestyle this is capable of it all and looks awesome. The package comes with fins and handle , add the allround straps to have a complete board ready to ride.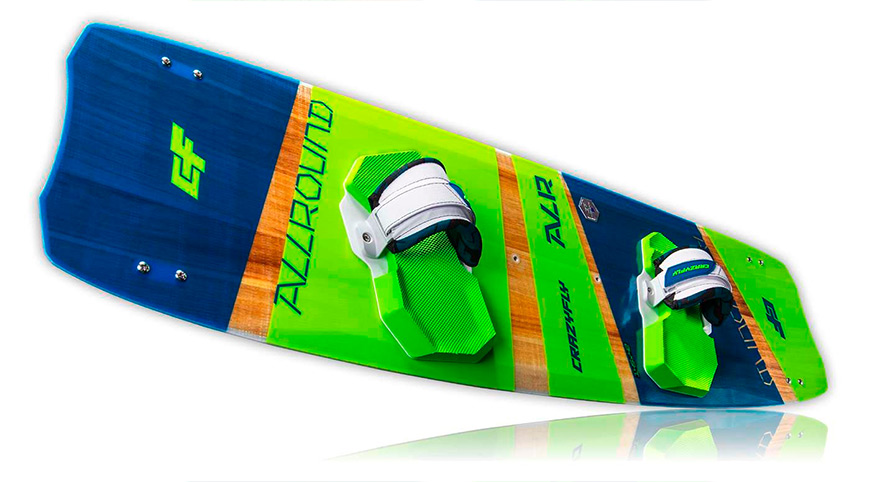 This years All Round builds from previous with adding a stepped sidewall for better flex pattern to the single concave bottom for added grip and control on the water when holding an edge up wind. This board has super sweet plaining and makes slide through transitions a doddle. Progression is made easy with soft board flex to smooth out the choppy water while new All Round Footstraps are added in to cradle your feet for a smooth and comfortable All Round ride.
The construction used through out the CrazyFly board range is always super good and the All Round is no exception. The Stepped CNC Shaped wood core along with multi axial fibre glass and CrazyFly's Light Up sidewalls allows this board to deliver great performance on the water to suit many levels of riders from beginner to intermediate making it an ideal choice for use in kite schools also.
There are several sizes in the Crazy Fly All Round Kiteboard but the most popular sizes outside of schools are the 138x43cm and the 135x40cm. These are great sizes for adults to progress their riding. The 138x43cm is the more popular and great for larger adults and riders just starting and makes an awesome light wind board for intermediate riders due to it being extra wide. The 135 x 40cm is perfect fro smaller riders and ladies just out of lessons and makes a great all rounder for average sized adult riders well past the beginner stage.

The crazyfly allround tech specs:
Beginner to intermediate
Single Concave Bottom
CNC Shaped Wood Core
Multiaxial Fibreglass
Light up Sidewalls
AllRound Bindings available