In Stock & Available for delivery
Flysurfer Flydoor6 Kitesurfing Board Everyone has experienced it. You get to the spot and the wind-forecast has been a few knots too optimistic. With a Flydoor in your quiver this means having fun, instead of hanging around on the beach. The unbelievably early planing ability combined with the unexpectedly good handling is what makes the Flysurfer Flydoor6 stand out above the rest. Riding toe-side, jumping, cruising. The Flydoor6 just feels much smaller than it is, however still delivers unmatched upwind performance. Thanks to the offset toe fins there is no other twintip board, except the FlyRace, that goes upwind better.
Flysurfer Flydoor6 Sizing?
The Flysurfer Flydoor5 is available now just in one size a 159cm x 45cm The Flydoor5 is a unexpectedly agile board for its size and the ideal ultra-light wind board for light riders as well as a lightwind-allrounder for heavier riders. The board also comes now as the option of just the board and fins so you can fit your own preference of bindings or complete with the great flysurfer pads and straps bindings.
Flydoor6 - 159cm x 45cm (Complete with Fins, But Pads and Straps Extra)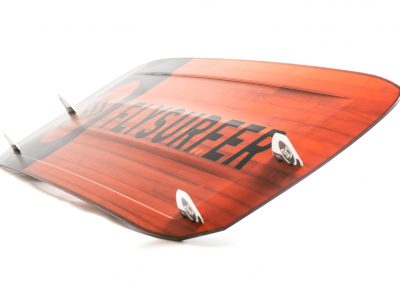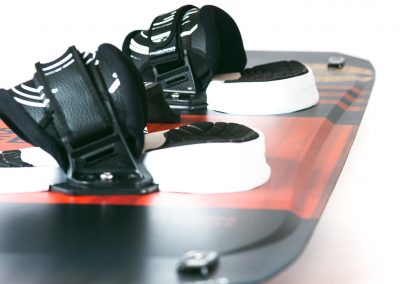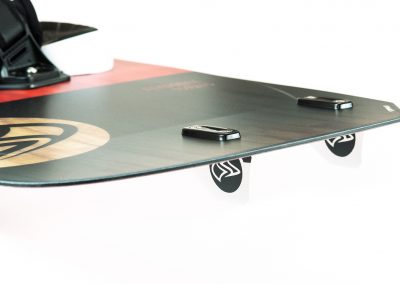 Infinite Possibilities
The reputation of the Flydoor boards for having amazing light-wind properties is well known, but the huge wind-range of the boards allows you to have extra kite days even in extremely gusty conditions. Many of the small inland spots and lakes are now properly enjoyable.
Because of this it is not only a great board for beginners, even though there is almost no better board to learn on. From water-start to loaded tricks, it can do everything without being too much of a challenge from it's rider.

Construction
It's always a challenge to combine early planing and good agility into one board. To achieve this we had to work on a lot of small details the new full wood composite core allows for light weight without compromising the durability.
The new laminate layup gives the board more torsional stiffness which works together with the extremely thin flex-tips to give you an optimal combination of great control, comfort and dynamic feel.

Flysurfer Quality
It is self-evident that great riding characteristics alone are not enough. Starting with the Radical4 we moved our production to a factory in Europe that promises the highest quality and precision. Only the highest quality materials are used. For example the most high end top-sheets available. Our tried and tested footpads, G10 fins and our new comfortable and bombproof velcro foot-straps finish off the complete package.