In Stock & Available for delivery
The Radical from Flysurfer has always been a firm favourite of our team as it has a great balance of freestyle and freeride and is just as at home on choppy conditions as in mirror flat and the waves. It's the do all swiss army knife of a kiteboard. Get the right size for you and it will keep on going and have a big smile on your face! The Flysurfer Radical 6 has seen some new changes from it's predecessor. There is now a full wood core with new flex distribution rather than the foam and wood core of the earlier radicals. This increases strength and response at a small increase in board weight. The new Double Concave base design gives great grip and easier water deflection for soft landings.
Flysurfer Radical 6 Board is supplied with Fins and you can buy the bindings upgrade package for a complete flysurfer package.
Radical 6 Board Sizes: 129cm x 39cm | 133cm x 40cm | 138cm x 42.5cm | 144cm x 46cm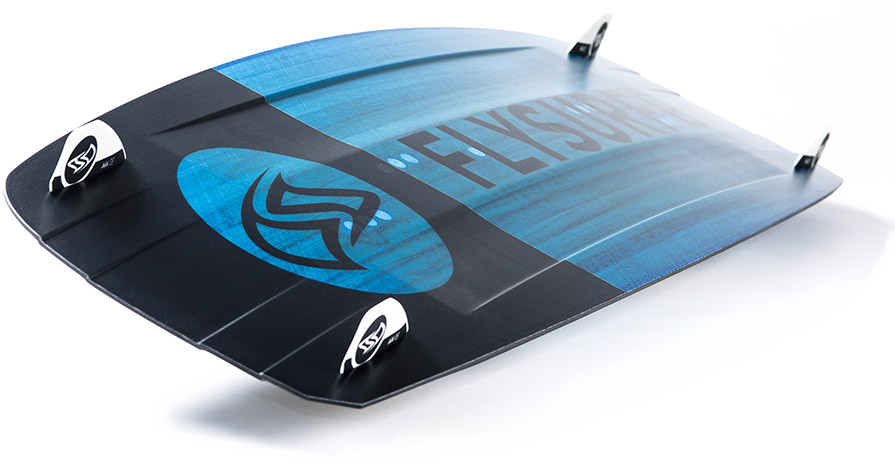 The Flysurfer Radical6 is comfortable, fast and responsive so is a perfect all round kiteboard. Maximum control, stability, reduced spray and great comfort - Pure Temptation
FULL WOOD CORE - The RADICAL6 is built with a full-length wood core made of ecologically grown paulownia wood. This guarantees the optimal mix of flex, responsiveness and dynamic recovery force in the board, while retaining huge amounts of strength and durability.
CONSTANT CURVE ROCKER - The Constant Curve Rocker ensures maximum performance on demand. The shape gives you precise feedback, constant grip and control even in the toughest conditions or whilst riding at full speed.
DOUBLE CONCAVE - Built for maximum control, the Double Concave gives you extra grip even without big fins. It also improves edge grip and evenly deflects water to provide soft landings and to make it easier to stick your trick.
NEW FLEX DISTRIBUTION - The 3D sandwich construction and biaxial laminate around the woodcore provides the necessary torsional stiffness and durability. This construction gives the board plenty of flex in the tip area while reducing flex in the core of the board. Giving you more direct board feedback and more performance on the take-off without compromising smoothness.
ERGONOMIC TOESIDE - The asymmetric outline uses a rounder and shorter toe-side outline. This increases control when riding toe-side and provides increased manoeuvrability while carving.
SCRATCHPROOF TOPSHEET - All of flysurfer's boards have a special high-quality UV and scratch-resistant coating, thus offering a long product life. The graphic design is protected under the coating, so that it does not get damaged if the board is slightly scratched.