In Stock & available for UK next day delivery
The HQ4 Alpha four line power kite has been designed to be a cost efficient kite to start people off into traction kiting.
The Alpha kite provides all the performance and durability you need while offering easy handing and user friendliness. Helping you get through the initial stages of flying and traction kiting.
Stable flying characteristics and great power delivery means it's not just a beginner kite; take it out in the right amount of wind and this kite will get you zooming along the beach on a buggy or board! With its stable and predictable lift this is not a kite that's going to take you to the stars on a jump but also won't lift you out the buggy so easily on a powered turn.
If you are wanting the next level of build quality and performance kite then we'd recommend it's bigger brother the Beamer, but it's got a price increase to go with it!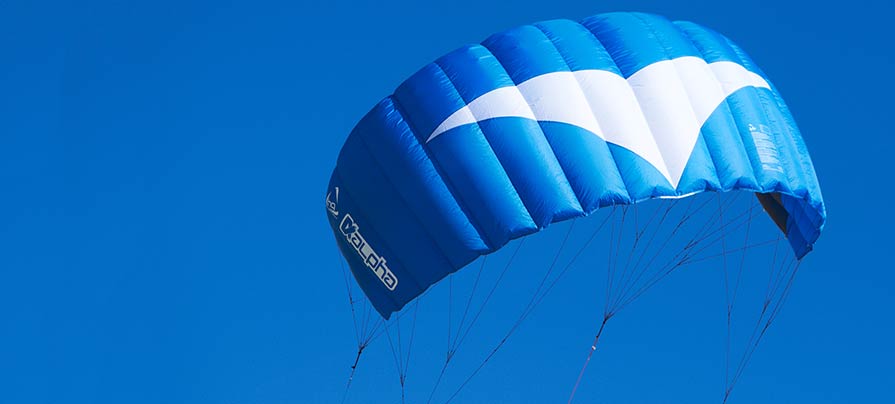 There are three sizes of the HQ4 Alpha, 1.5m, 2.5m and 3.5m. All cover a variety of wind ranges as shown below with the sizes and wind ranges.

So what size should you be getting as a beginner flyer?
HQ4 Alpha 1.5m - Wing Span 2.29m - Recom. Wind Range 10-30mph
The 1.5m is a great high wind kite but more for junior beginners wanting a four line kite, it needs a bit of ind to get air borne but then can handle a lot of wind in more experienced hands.
HQ4 Alpha 2.5m - Wing Span 2.96m - Recom. Wind Range 8-25mph
The 2.5m Alpha is a great all round power stunt kite with fast turns and agility but in a stronger wind then it really hits a punch. Great for smaller riders for traction or for adult riders wanting power and fun for static flying.
HQ4 Alpha 3.5m - Wing Span 3.5m - Recom. Wind Range 6-20mph
This is the main adult traction kite in the range and has a real kick in it's wing for buggy or board riders. A bit more sluggish for static flying but awesome when hammering across the beach.
Please note wind ranges are approximate and based on static flying experienced adult users on brand new equipment. You may be able to exceed these ranges if using with traction equipment and stronger line sets etc. We do not recommend beginners using any size in over 15-20mph winds until comfortable with flying and the safety system.

The HQ4 Alpha comes complete ready to fly with everything you need. Plus all the accessories are good quality durable components they haven't skimped on the included equipment:
Kite canopy from durable ripstop nylon.
Quad handles, colour coded.
Coloured Dyneema line set (220kg / 100Kg 4 x 20m)
Kite Killers safety.
Ground stake for securing kite
Instruction manual
Large shoulder bag for storage.

Overall the HQ4 Alpha is an excellent kite to learn how to traction kite and help you progress quickly. Superb flying performance at a price that can't be beat.