The RRD Air EVO Tourer inflatable paddle board is perfect for riders wanting to excel in flat water paddling. Those riders that like the idea of a fast sliding race board but don't want to loose the easy handling for cruising the rivers and lakes and beginner riders. The Tourer is not designed for catching waves but will cut through waves and track a stable line in chop or rougher water. But on flat conditions it cuts through the water smoothly with speed and with great glide to get the best from your stroke.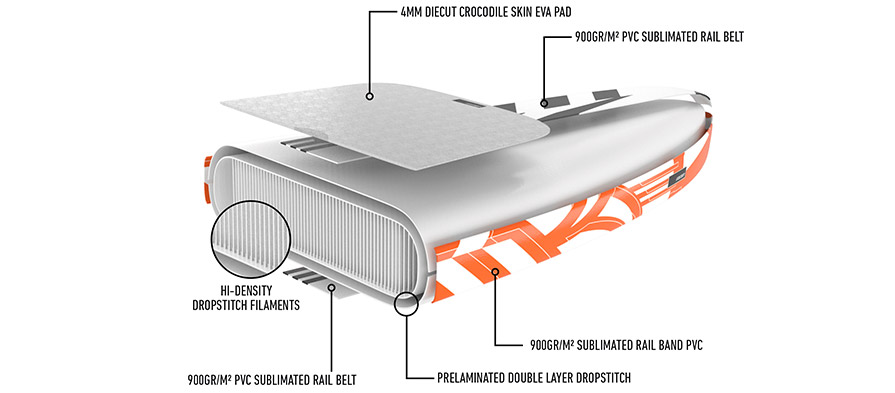 Still stable enough to fish off and sightsee this Paddle board is perfect for inland paddling and carrying cargo. The RRD Air EVO Tourer has a 900GR/M2 PVC Sublimated rail belt and band around the board along with it's 6in thickness making the iSUP nice and stiff unlike any other boards at this price point. Still stable enough for beginners to grow and progress with, the Tourer Paddleboard is great for riders that want the glide of a race board but all the stability and manoeuvrability of an all rounder. If catching waves is your ideal then stick with a different model as inland paddling is what makes this superb board especially with the inbuilt cargo netting and tow points on the front and back. With these the Tourer is ready for your next expedition down the river!

With its easy access and flat base the Air EVO Tourer iSUP is the ideal choice for anyone looking to get their first strokes on the go! This fast touring and accelerating board will leave you surprised on how quickly you can cruise through flat water conditions whether on a lake, lagoon or riding your way down a river to see where it leads, the RRD Air EVO Tourer iSUP will not hold you back!
For anyone looking for a similar spec to this board but with better wave riding capabilities then check out the RRD Air EVO Cruiser!
The Air EVO Tourer RRD iSup also comes with versatile lightweight carry bag and Pump with repair kit. Plus we package this board with a free RRD allo 3 piece adjustable paddle and a RRD surf leash so you have everything to get straight out on the water and paddling.
RRD Air EVO Tourer iSup Paddle Board Sizes:
12ft long x 34in wide x 6in thick - ideal touring for adult riders wanting more stability.
12ft long x 32in wide x 6in thick - ideal touring for adult riders with bit more speed/glide and less stability.
The RRD Air EVO Tourer Inflatable Stand Up Paddle Board specs:
900GR/M2 PVC Sublimated rail belt

900GR/M2 PVC Sublimated rail band

6 inches thick
4mm Diecut crocodile skin EVA pad
Hi density drop stitch filaments
Pre laminated double layer dropstitch
Flat base
1x Single fin US