In Stock & available for UK next day delivery
These Flipsky 6384 Electric motors are the bigger version of the super popular 6374 and are great for those that want more torque from the longer magnets and don't worry about the increased weight if ripping it on off road boards. They are reasonably priced and reliable motors. They have been refined over the time and are now called "Battle Hardened" this means the magnets are epoxy glued to the case for extra durability from impacts and vibration. The bearings on the motor shaft have grown bigger to be stronger and the main shaft is now 10mm and this version steps down to 8mm with a keyway. The sensors are fixed securely and the temp sensor gives a good accurate reading for low temps for a almost sealed motor.
Looking for a budget friendly torquey motor for electric mountainboard then this Flipsky 6384 is ideal just check the sizes to see if they will fit your mounts.
This motor is diameter 63mm and overall length of 84mm so compatible with a lot of mounting systems but beware although the motor shaft is 30mm long and will fit mounts that have extra bearings next to can.
What KV do I need?
We sell these motors with a few different KV values. KV is the revolutions per minuite rpm of the motor when 1v is applied and no load. So basically a higher KV motor will achieve a higher top speed with the same board (i.e. gearings, voltage etc). But motors are most efficient at the faster turning end of their range so if wanting more torque at lower speeds then a lower KV motor is more desirable. But more torque can also be from longer magnets and windings not just the KV value so it's always a balance to choose. If interested to check and compare speeds then check out the
esk8 calculator
The cables are pre-soldered and braided with 4mm bullet connectors and hall sensor plug ready to connect. All motors have been checked with vesc tool detection before shipping to ensure there are no problems. We test and warranty all these motors for general esk8 use. If plugs are changed or soldered or water damage is evident then warranty is voided. Please check motor is working yourself before changing any connections.
Flipsky 6384 Electric Motor Specifications:
Max Power: 4000 Watts
Max Current: 95 Amps
Max Volts: 4-13S
Max Torque: 9Nm
Motor Resistance: 0.05Ohm
Weight: 1100g
Motor length:84mm
Motor diameter: 63mm
Shaft Diameter 8mm, 30mm length
Motor Wire: 12AWG wire with 4.0mm Gold Bullet Connector Male.
Stator: 0.2mm thickness lamination japan steel
Magnet: N42SH high temp curve magnet
BLDC Motor Number of pole: 14
Hall Sensor Voltage 5V
The screws used for the motor are M4 metric bolts. Depth inside motor is 5mm.
Screws to mount the motor are not included with the motor.
Female Bullet connectors and keyway are included.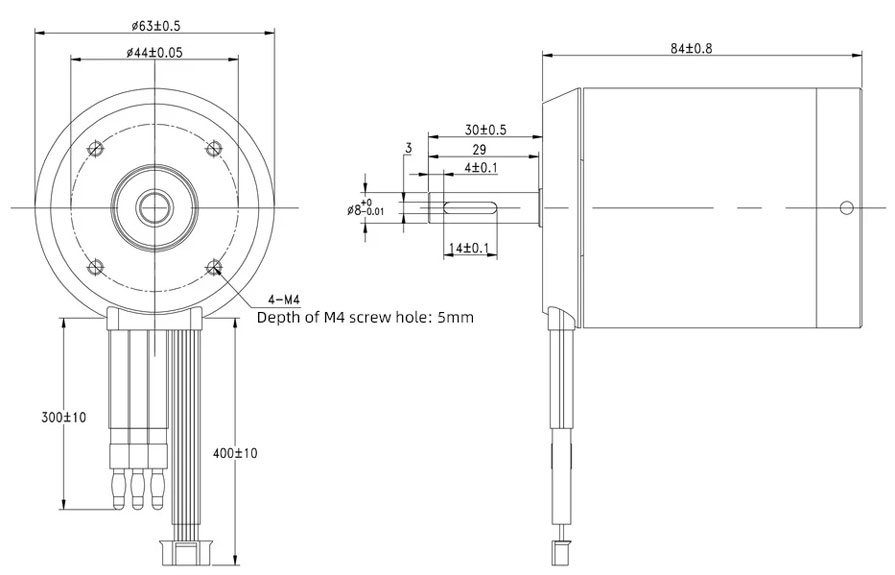 Flipsky Electronic Products Warranty:
All ESC and motors are 100% tested and shipped as a good product before shipment. Any uncertain connection or information for VESC/Motors settings, please contact us before your installation.
The warranty period for Flipsky consumable electronic products (eg. VESC/Motor/Battery/Remote/Antispark switch) is guaranteed for 2 months since shipment. Please contact ATBShop to process the after-sale service. You can return it to us for analysis as a manufacturing failure. If the replacement or repair is not possible for you, a discount can be provided for the new replacement.
The following conditions are not covered by the above warranty:
Cannot provide purchase channel source proof
Mechanical damage to electronic components or PCB
PCBA board has repair soldering iron traces (excluding solder the cable bullet connectors)
Wire damage or external impact damage
(For non-waterproof products) there is water inflow
Abnormal applications beyond the product specifications