In Stock & available for UK next day delivery
If you are building a DIY electric mountainboard then the battery box can be sometimes awkward or expensive. You want to keep your battery pack safe and sound as they are expensive items and keep them away from water. The Peli cases have been popular for many DIY builders for years as takes a lot of complexity out of the battery box! The internal sizes in the Peli 1200 fit 2 large Lipo 6S batteries or other built batteries and is basically similar size to the Trampa Monster Box so gives a great deal of battery compatability and fits neatly between the bindings and edges of the board. Some advantages of the Peli case apart from it's waterproofing is that with two large latches then access inside is quick and simple for powering the board on and off and charging batteries.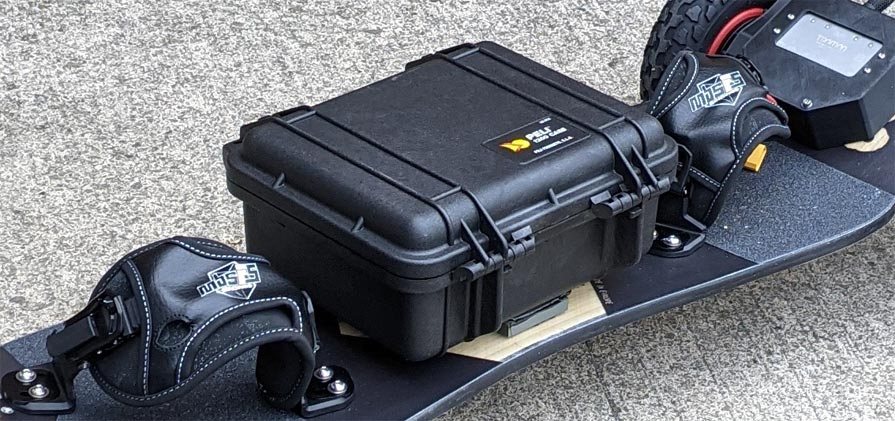 ​Fixing the Peli 1200 Case onto a board deck:
There are many options for fixing down but it does depend on your choice of deck and what is suitable. We have a few favourite methods ourselves detailed below but in either way make sure there is enough gap under the box to allow the deck to flex without hitting the box otherwise this will make a failure. We also normally file/grind off the bottom feet to give a cleaner fixing surface.
Bolting through the deck - sounds simple and is - drill and countersink the deck, sealing edges and use 2 or 3 bolts through the middle section then use some thick rubber bushings (like skate truck bushings) to give some flex in the join. Make sure on wooden based decks that the holes are sealed properly to stop water attacking the deck insides.
3M VHB Tape, this stuff sticks down hard and is flexible. Make sure both surfaces are cleaned with IPA before attaching. Use a plastic spacer to add thickness to a couple of layers of tape. i.e. tape from deck to spacer, then tape from spacer to peli box. Use approx 60mm wide of VHB Tape often has to be made up of a few strips.
Velcro and straps - keeping it simple and removable, big wide velcro to keep things in place. Again clean the surfaces being applied to and allow space to deck flex. Often people using this also use a webbing strap around the deck and box for DIY fixing.
Peli Protector 1200 Case Specifications and Sizes:
Interior (L×W×D) - 23.6cm x 18.1cm x 10.5 cm
Exterior (L×W×D) - 27.1cm x 24.8cm x 12.3 cm
Lid Depth - 3 cm
Bottom Depth - 7.4 cm
Total Depth - 10.4 cm
Weight With Foam - 1.3 kg
Weight Empty - 1.2 kg
Buoyancy - 5.5 kg