In Stock & Available for delivery
Sounding like a tie fighter zooming through hyperspace that is the feeling of the spur drive gear. Offering a huge 1:58 gear ratio or more the spur gear is what gets you up those steep tracks and accellerates as fast as you can hold on! This is the drive system that first attracted us to electric mountainboards because it let us ride how we wanted. It does carry a bit of weight compared to the belt drive but the robustness and torque are so worth it if you are a serious offroader.
Gears are straight cut or helical build. The difference being the straight cut are easier to maintain and adjust by are noisier in use. There are various ratios but the most popular are the straight cut 1:5.9 ratio as great on 8in and 9in tyres. Check out the video below about maintaining the spur drive.
Serious about offroading with 8in or 9in tyres and hitting the mud then the spur gear is the best option out there on the Trampa drive!
The Trampa Spur Gear Motor mount used to be in just classic black and silver but now as per normal with trampa there are now loads of colour options for the rock guards and accessories to customise how you wish. Please mention in the comments when ordering your colour preference.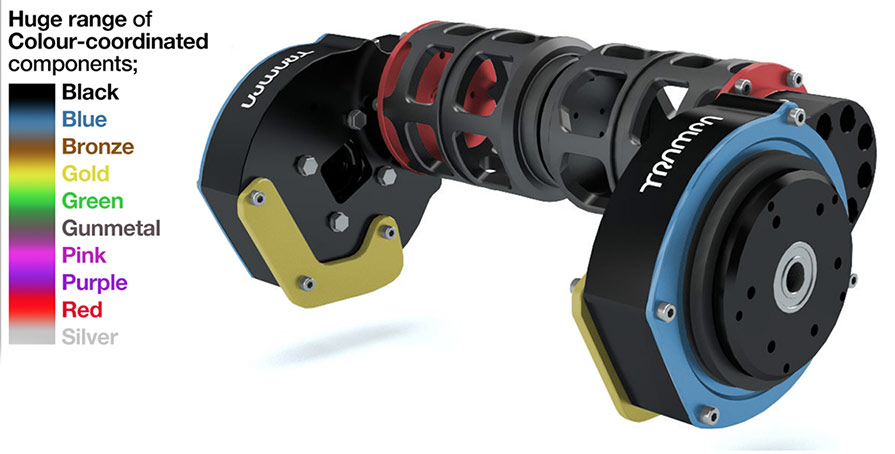 Mounting this to a truck then you need a Trampa CNC Infinity or Vertigo Truck. This means the end of the axle must be machined into a 20mm square shape rather than just the rough cast shape. This is because the drive attaches with a precision collar clamp and it needs that shape precicley. Motors for this drive then we recommend the Trampa motors due to them fitting the support pinion best and also have a longer shaft than most other brands but it is possible to fit other 63mm diameter motors with some adjustment, contact us is you wish to do this before ordering so we can advise.
Motors; you can buy this spur gear motor mount without motors or with the 6384 trampa motors. The choice of motors is down to the KV value which in simple terms the higher the KV the faster the top speed but the lower the torque at slower speeds. So a slightly lower KV will offer more torque but lower speed. Otherwise you can always add more Amps in the software within reason to help increase the starting torque but you can't make it go faster without a higher KV Motor.
The Spur Gear Drive is not assembled but you do get a manual and it is not too hard to build.
You get the following parts in this order.....
2x ATB CNC Spring Truck PRO Motor Mount CONNECTOR
2x ATB CNC Spring Truck PRO Motor Mount BACK PLATE
2x Anti Vibration Rubber pads fitting in the Conical Clamps
8x M5x18 Marine Grade Stainless Steel HEX Head Bolts
8x M5 Marine Grade Stainless Steel Washers
2x Precision CNC'd SPUR GEAR DRIVE Tubs Anodised BLACK
2x TRAMPA SPUR Gear Drive T6 Aluminium Tub Cover
1x SPUR Gear Drive Bash Guard - LEFT Side
1x SPUR Gear Drive Bash Guard - RIGHT Side
6x M4x10mm Countersunk Stainless TORX Bolts Bash Guard fixing Bolts
2x SPUR Gear Drive Motor Adaptor
8x M4 x 25mm CAP Head Stainless Steel TORX Bolts
2x Custom option of HELICAL or STRAIGHT Cut Gears - Slave
2x Custom option of HELICAL or STRAIGHT Cut Gears - Motor
2x M5 x 5mm Hardened BLACK Steel Grub Screw - Locks Motor Pinion on Axel
2x M3 x3 x12mm Motor Pinion Keyway Locks pulley in position
2x SPUR Gear Drive Hub Adaptor
10x M5 x 12mm DOME Head Stainless Steel TORX Bolts
14x M4 x 10mm DOME Head Stainless Steel TORX Bolts
2x Super strong DELRIN Plastic Motor Protection HOUSING Open Ended
2x MkII Motor Protection Sleeve Stainless Steel Mesh FILTER
12x M3.5x12 EJOT TORX DOME Headed Bolts for SGD Motor Protection
2x MkII Motor Protection Fan for cooling Motor running temps within the MKII Motor Protection Housing
10x M3 x 16mm Countersunk Bolt - Marine Grade Stainless Steel
2x Pro Drive V-Ring Rubber Seal to prevent the ingress of Dirt & Moisture
2x 18.2mm Colour co-ordinating Wheel mounting spacers
2x 12x1mm Shim Rings to position Wheel perfectly
2x Custom choice of TRAMPA Motor to suit the application or rider
Weight: 4,026g