In Stock & Available for delivery
Experience some real power under you feet with the most exciting motorised E-boards ever to land on the market. The Trampa Electric Mountainboard combines mountainboarding (essentially an off-road skateboard that you are strapped in to) and motorsports all in an off road format across the Swindon outskirts.
For this experience we have two options to offer:
Test Drive- 1 Hours riding/ testing £30pp
During this one hour 'Test Drive' we will introduce you to the board on how it works and take you out for a short distance where you can get a feel for the power that these boards offer. There is a cycle path and large open field for you to open it up on situated right next to ATBShop!
The Tour- Approx 3 Hours riding/ testing £75pp
The second option of a 'Tour' gives you a three hour excursion that takes you around Swindon dirt paths and cycle tracks for a chance to discover the real potential of the Trampa Electric Mountainboard! This can also involve going completely off-road in the dryer parts of the season through woodlands and open fields! This experience offers a short break at a country pub for a quick rest and refuel. There is simply no limit to these incredible E-Boards and there is no hill in Swindon they cannot handle. This option is the perfect gift for someone who loves the outdoors, motorsports and board-sports!
What to expect on our Trampa Electric Mountainboard Tours: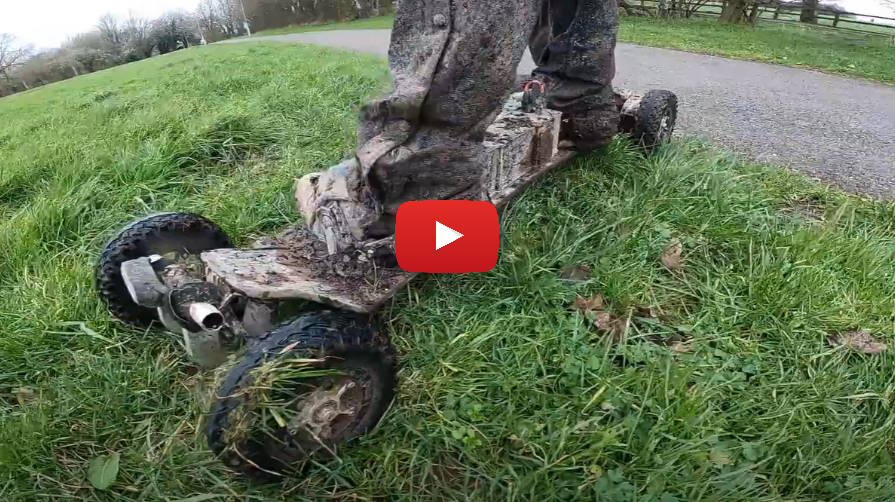 If after your test ride or tour you decide to make a purchase of your very own Trampa Electric Mountainboard then we will refund your Test Ride and Tour Fee. This offer is valid up to one week after your Test Ride or Tour and there is NO pressure what-so-ever to make a purchase during and after the Test Ride or Tour.
For more information on the Tours and Availability please contact us on: 01793 523244 or email: info@atbshop.co.uk
For more information on the Trampa Electric Mountainboard check out the listing HERE.
Terms and Conditions:
All Riders must sign a disclaimer before stepping onto board
Riders must be 18 & Above
All due care & responsibility is that of the rider, the tour guide is there only to show you the route and support you/repair the board if there is a breakdown or accident.
Although any equipment tested will be thoroughly serviced & maintained, due to the nature of the activity accidents can happen, & ultimately parts can fail. If something should fail through product-abuse or miss-use by the rider, they will be held responsible for the cost to replace the parts (charged at a discounted rate).
Currently there is no specific legislation regarding the use of electric vehicles such as E- Skateboards and E- Scooters, however this is something that is currently in progress with the authorities. We find the off-road nature of these E-boards takes you away from any potential issues with general public and the authorities. As a company it is our duty to make you aware of this and in partaking of this activity you take full responsibility for your safety and actions. We do our absolute best to minimise all risk involved with the tour.