In Stock & available for UK next day delivery
Here it is, the newest version of the MajesticX in Navy Red colour. Tweaked slightly with different material feel and buckle covers but still delivers the MajesticX Hard Shell Carbon Performance. Mystic's Majestic X waist harness featuring a patented full carbon Bionic Core Frame offering a huge level of support and comfort like no other! Mystic's first hard shell harness has got us super stoked here at ATBShop for the level of quality and usability of this harness has been thought over in every tiny little detail.
Please note the MajesticX Harness does not come with a spreader included. We recommend the Clicker Bar for all round riding and the Surf Clicker for surfboard riders. There is also the new Stealth Bar options for even more support.
Using a horizontal stiffness across the carbon back panel, the Majestic X still allows you to twist your body comfortably by flexing in the other axises offering a more natural feel when moving yet still maintaining the required support across the X axis. For exceptional comfort we have an intelligent Viscoelastic foam (similar to memory foam) that moulds to your body shape and curvature of your back each time you put it on. This also helps lock the harness in around your waist without any discomfort. Only to add to this we have Mystic's fool proof battle belt system and a non-slip, thermoformed EVA foam wrap around your waist for extra grip and no slip!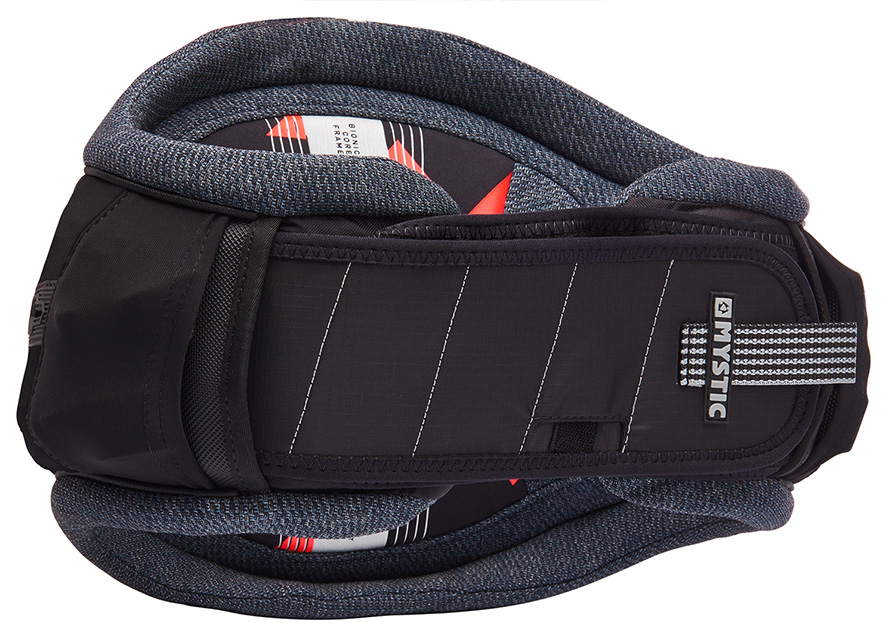 Instead of your typical epoxy resin found in other hard shell harnesses the patented Bionic Core Frame uses a 200% stronger thermoplastic composite developed by a german specialist to increase flex where it matters while remaining strong against impacts. This thermo plastic composite material is formed under extreme pressure to deliver the quality finished product; The Majestic X.
The Mystic Majestic X Navy Red Hard Shell Waist harness features:
Compatible with clicker bar 4.0 surf or 4.0 standard spreader bars or stealth.
Bionic Core Carbon Frame
IV (Intelligent Viscoelastic) Foam
Battlebelt closure
3D moulded foam interior and exterior
Soft touch neoprene edges
HP System included
Covered side parts
4 Strap system
Non Slip EVA Mould
Leash Eye attachment
Key Pocket