Helmets - Skateboarding
A selection of land , water and snow helmets from some the of best brands available. Designed to keep your noggin in once piece whether you are shredding hills on a mountainboard or longboard, Skating or Scooting at the skate park, screaming down the Alps on your snowboard, cruising along the beach with your kite and lapping at the cable on your wakeboard.

Play Safe - You will live longer!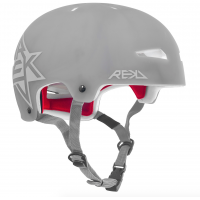 The REKD Elite Icon Semi-Transparent grey helmet provides durability, comfort and protection for all extreme sports.