Out of stock. Sorry, This item is now Discontinued.
Related Products
Here at ATBShop we are happy to welcome the most beautiful board of 2019 that has all the right technology to back up its incredible looks with some serious performance on the water. The CrazyFly Raptor; already a ground breaking board and best seller for us, is back in an all new carbon layup and with the same freestyling shape and design as the 2017 Raptor, only even lighter!
Maintaining its high end and core freestyle/ freeriding properties the Raptor LTD 2019 offers a premium finish to an already premium board. The Raptor LTD excels itself across the board of demands for mixed style riders providing a freestyling touch with pop on demand attitude putting smiles on the faces of those just starting out all the way to those at a higher intermediate/ pro level.
Featuring a double concave base for better grip and pressure dispersal on landings, the CF Raptor is also the first of its kind to uses micro channels or Nano Glide Skin base similar to that of a snowboard resulting in superior tracking and upwind edging. With a brand new CompFlex 4T5 Carbon weave on the bottom of the board provides you with even more flex without sacrificing strength resulting in an even smoother and comfortable ride than before. This special weave requires less epoxy reducing the overall weight of the board by 0.1KG.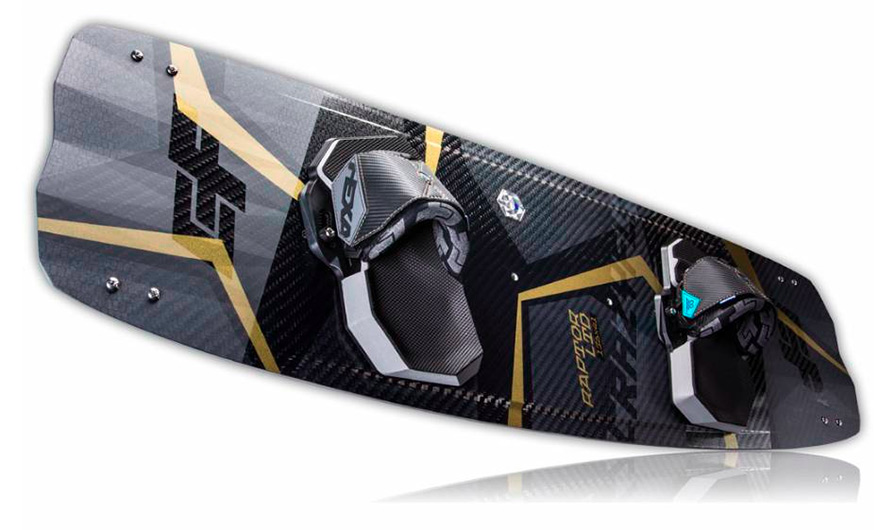 The CrazyFly Raptor LTD kiteboard masterpiece also uses a thin, knife like rail allowing you to cut through the water on an even harder edge. Double V tips and diamond flex layup only add to the smoothness of this work of art in choppier conditions while showing really how much thought has gone in to it.
For those of you starting out and looking for a board to last you through ALL phases of progression, or if your already at a progressive level and am looking for a board to really push the learning curve the The CrazyFly Raptor Carbon LTD Kitesurfing Board has your back and simply will never disappoint. All CrazyFly Kites and Boards are now made in Europe and offer all the quality construction and build you would expect from European based manufacturing!
The CrazyFly Raptor Carbon LTD Kiteboard sizes:
132cm x 41cm / 2KGs
136cm x 41cm / 2.2KGs
140cm x 42cm / 2.3KGs
The Raptor LTD Carbon works in perfect harmony when combined with the CrazyFly Hexa LTD bindings (not included) redefining comfort and control while combining performance and style all in the form a set of matching carbon and neon foot pads and straps. Undeniably one of the most attractive combinations ever!
The CrazyFly Raptor Carbon LTD Kiteboard specifications:
Manufactured in Europe
European quality controlled and checked
Beginner to Pro riders
Mid flex
Ellipse double concave
Nano Glide Skin base
Loads of pop
Vibration dampening
Full Carbon layup
CNC Shaped wood core
Razor thin Light Up Sidewalss
Step cap
Razor fins