In Stock & available for UK next day delivery
Finally the highly anticipated Ozone Enduro V3 is here! After the Enduro V2's unmistakable success as being one of the most diverse kites available on the market today, the V3 is now offers even better performance and stability in the big three kitesurfing disciplines; freeride, freestyle and wave riding. This years kite see's a new extensively tested triple rip-stop material combination, the new triple rip-stop canopy material is 15% with reduced elongation characteristics offering better stability during gusty conditions. Enduro V3's leading edge and struts are constructed with new technical triple rip-stop dacron improving durability, longevity and strength!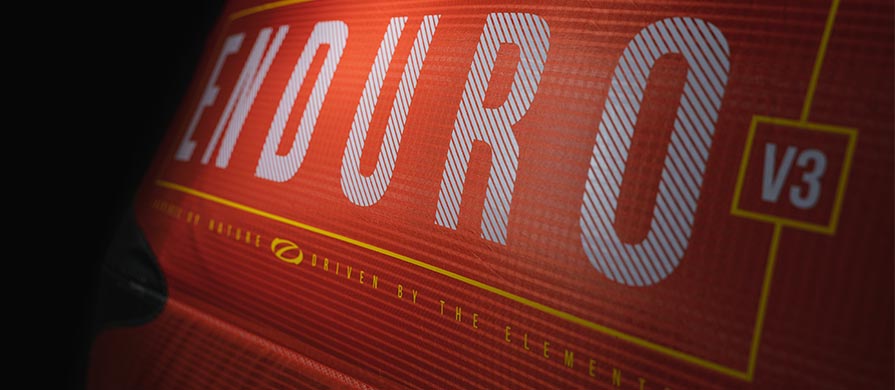 A more progressive power delivery and newly added tapered tips reducing any tip bounce, the Enduro V3 s now a perfected super smooth ride for any style of riding.
Featuring an open-c shape, semi swept leading edge and square wing tip design providing a large depower range, progressive handling, boost for jumping and drift in the waves! and adjustable 3 stage variable bridling.
With adjustable 3 stage variable bridling geometry the Enduro V3 prides itself on being a kite for anyone of any kitesurfing discipline: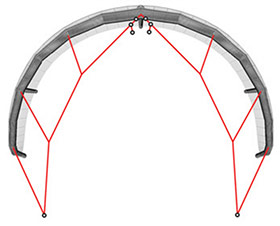 For all you freeriders out there the smooth and predictable nature and characteristics of the Ozone Enduro V3 will offer you plenty of response and play while enjoying your ride. With the Enduro's quick turning speed and unmatching bar to kite feel you can boost to the sky or cruise until your hearts content.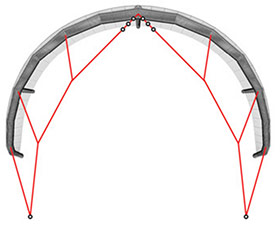 Utilising this open C-shape design this kite excels in freestyle kiteboarding from your first unhooked moves all the way up to advanced and more technical tricks that even a true pro could appreciate the level of control, stability and response. With these features on demand, the Enduro V
is the perfect companion for a rider really looking to push the boundaries of modern day freestyle kiteboarding.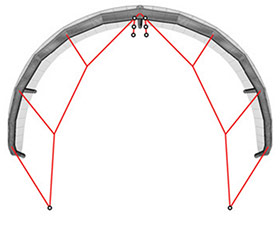 The third setting is the wave setting to which lightens sheeting pressure and increases steering reactivity making the kite less powered when pivoting allowing you to focus more on the wave that you are tearing up. This setting also allows the kite to 'drift' backwards when the lines become slack without dropping out the sky. Quick turning, drift and power on demand are three main requirements of a performance level wave kite.
With an outstanding wind range the Enduro works brilliantly in lighter conditions as a fast kite you can work and mid aspect kite as well as an absolutely insane boosting kite for the higher end conditions when things start to get crazy.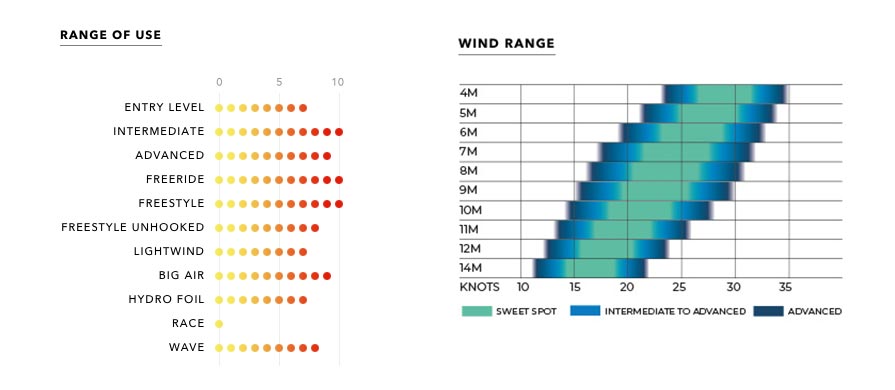 For anyone who cant quite make their mind up as to which style of kite they are looking for, why settle for just one? Why not all three and give yourself that diversity to choose from on the day? The Ozone Enduro V3 offers the ability to progress across the three main disciplines in the sport with a performance and reputation like no other.
So what sizes do I want in a quiver of Enduros? The most popular quiver sizes are a 9m and 12m with the added 7m for high wind use. For heavier riders an 8m/10m/12m quiver would also be good. We know the 10m is super sweet, so for lighter riders this will be a killer all round one kite with a bigger kite for light wind. The 8m up to the 12m all run on the 50cm bar which instantly gives you a cheaper quiver, being able to purchase multiple kites but just one bar.
Ozone Enduro Construction Features:
Exceptional hand checked Ozone factory construction using the highest quality materials
Teijin TechnoForce D2 canopy material
Teijin Dacron for the L.E. & Struts
Direct connect struts
Internal reinforcements for improved durability with double layer Dacron inside the LE closing seam
Double stitched bonded seams
Dacron reinforced tip area for load distribution
Reinforced leading edge and struts in high stress areas
Reinforced trailing edge
Light weight & low profile aerodynamic leading edge scuff pads
Unique bladder construction with double layer section in wear areas
Anti line snag tip deflectors
Anti flap soft battens
fool proof line connectors
Ozone warranty and back-up service guaranteed